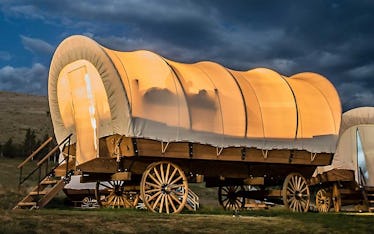 This Campsite Will Make Your 'Oregon Trail' Days Come To Life In A Glamorous Way
Courtesy of Conestoga Wagon Company
I can shamelessly admit that I spent a majority of my time as a kid in computer class conquering the Oregon Trail. It was never a glamorous mission, but winning the video game always felt victorious. (I'm getting nostalgic just thinking about it.) If you feel the same way, you'll be thrilled to know that you can go camping in Oregon Trail-style wagons — but you won't have to worry about crossing deep rivers or buying goods to survive. In fact, the Conestoga Wagons at the Yosemite Pines resort in Groveland, California will give you a "glamping" experience that'll make you feel like a privileged pioneer.
In case you're unaware, "glamping" means "glamorous camping," and the Conestoga Wagons at Yosemite Resort definitely live up to the name. The wagons come in two sizes; one that holds six people, and another that holds four, per Afar. The six-person wagon includes a king-size bed and two sets of bunk beds, while the four-person wagon holds one king-size bed and one set of bunk beds. Whether you're glamping with family or friends, there's sure to be enough room for everyone.
In addition to sleeping accommodations, there are also a ton of useful amenities in each wagon. My favorite perk is heating and air conditioning inside each one, which would definitely come in hand during warm days and chilly nights at the resort.
In addition to heating and air conditioning, there's also a refrigerator and microwave inside each wagon. This way, you'll be able to save your meals and cook them whenever your heart desires. If you'd rather not use a microwave, you can always use the fire ring that's located right outside the wagon. Then, you and your friends can enjoy the meal you cooked at a picnic table outside your spot. Yup, this definitely sounds a lot more enjoyable than the Oregon Trail I spent hours trying to cross as a kid.
According to the Yosemite Pines website, the wagons also include bed linens and a coffee pot. Could you imagine waking up in a cozy bed in the morning and sipping on a fresh cop of coffee inside your wagon? This is true glamping, people.
The only "downfall" of the Conestoga Wagon resort is that there are no private toilets or showers in the wagons. However, there is a facility close to the site where guests can use the bathroom, according to Yosemite Pine's page. Still, all of the other amenities included in the wagons already have me sold.
If you're hoping to book a trip to Yosemite Pines and stay in the Conestoga Wagons, call the phone number listed on the company's website. (Also, keep in mind that you can't make reservations online.) After you call, you can use the code "WAGONINTRO" to buy one night, and get one free, per Travel + Leisure. Your mini vacay must be booked between Aug. 30, 2018 and Sept. 30, 2018, and the two nights you choose must be consecutive.
Again, this glamping experience will give you Oregon Trail vibes, but it'll be much more glamorous than the game.