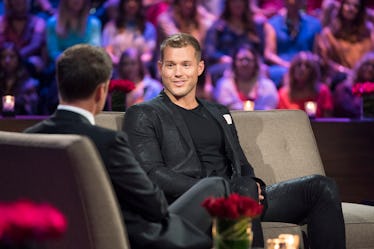 Colton's 'Men Tell All' Moment Was So Emotional & Twitter Couldn't Handle It
ABC
After some crazy model behavior from Jordan and an endearingly sweet chat with Grocery Store Joe, The Bachelorette's Men Tell All special finally turned heartfelt. Former NFL player Colton Underwood took his turn in the hot seat opposite Chris Harrison, and after taking such heat for his virginity and pre-show relationship with Tia Booth while on the show, we knew this conversation was going to be intense. Colton's Men Tell All moment was emotionally heartbreaking, and fans on Twitter just couldn't handle his breaking point.
After watching his season highlights reel (not too different from the world of football, eh, Colton?), Colton admitted that he didn't anticipate being eliminated. He also clarified that he truly fell for Becca without even thinking of Tia again, but that Becca was so watchful for red flags that she couldn't take Tia's confession of feelings for Colton lightly. Colton then defended Becca's decision to leave the room when he told her he was a virgin, citing the need to compose her thoughts as valid.
He also teared up about being a virgin, admitting against the protests of the audience that he felt like less than a man when he was teased about never having sex. Say what you like about the reality of The Bachelorette, but Colton crying seemed pretty genuine to me. The points he brought up inspired several fans on Twitter to post thoughts and sympathy about the show's portrayal of virginity and Colton's experience as an athlete in the often tough locker room setting.
When Colton owned up to his virginity earlier in the Bachelorette season, he remained fairly cool on social media as fans simultaneously teased and praised him for the admission. Ignoring the influx of hate, he instead posted a thank you to Becca on Twitter for giving him a chance and teaching him about himself.
Colton has also spoken to other news outlet about the emotions behind remaining a virgin until he finds the right person. Backstage at the Men Tell All taping, he told Entertainment Tonight:
I can respect that [the other men] have their opinion. I hope that at least I started a dialogue and I started a conversation in which they can understand what makes me, me. And I'm not here to prove a point, I'm not here to defend myself, I'm not here to say I'm better than anybody else. What I am here to do is be true to who I am, and The Bachelorette has helped me do that. So I can't thank them enough.
As we saw in the new Bachelor in Paradise teaser, Colton does reunite with Tia in Mexico, but it looks like more drama is headed his way. We don't know how easily Tia and Colton get together or if they even have a Paradise date, but the promo shows Colton in tears regardless of their background together. Oh, well. All's fair in love and war.
Season 14 of The Bachelorette concludes on Monday, Aug. 6, at 8 p.m. ET on ABC.