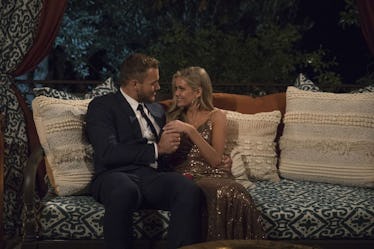 Colton's Body Language With Hannah G. On 'The Bachelor' Premiere Will Make You Ship Them
The first episode of The Bachelor is always my favorite. Some people may watch for the romance and the fantasy, but honestly, I'm really just here for the awkward AF moments. I know I can't be the only one, right? That being said, there is something sweet about those moments where you do actually see people connect, because they have chemistry and aren't afraid to be a little vulnerable. Which is why it wasn't all that surprising to see Colton Underwood's body language with Hannah G., the 23-year-old content creator from Birmingham, Alabama, who caught his eye and his first impression rose.
While it's probably too early (OK, definitely too early) to predict who is going to receive final rose from the former NFL star, I can't help but wonder about (read: obsess over) the dynamic and potential connection Underwood shared with the first girl to really grab his attention. So, I reached out to Traci Brown, body language expert and author of Persuasion Point: Body Language and Speech for Influence, for her take on what she sees happening between the two of them. As you might have guessed, their instant chemistry is fire. Here's what else she sees between these two.