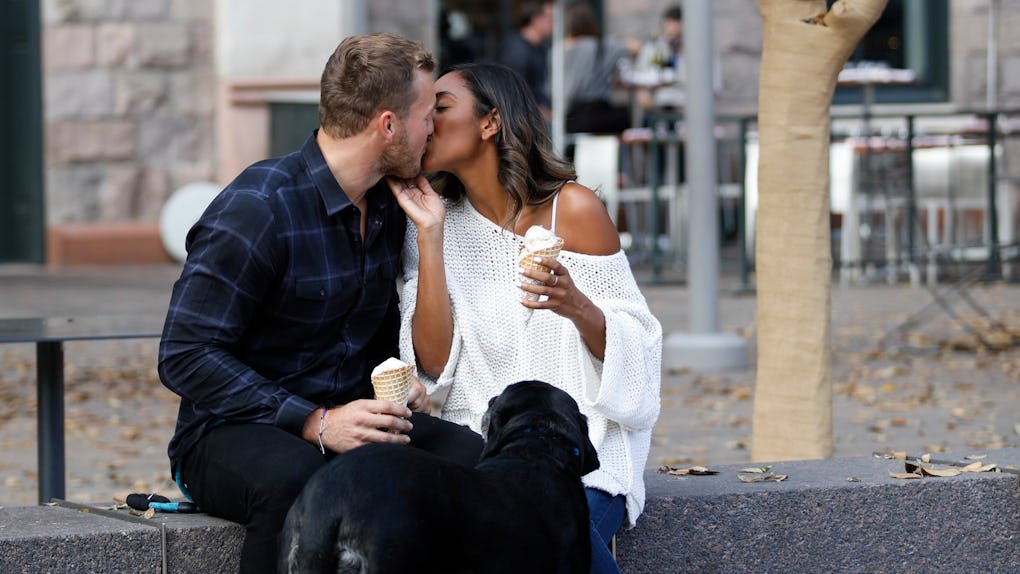 ABC/JOSH VERTUCCI
Colton & Tayshia's Fantasy Suite Body Language Isn't Super Promising, An Expert Says
Before he, you know, jumped over the fence, Colton Underwood actually had a pretty nice date with Tayshia Adams. And Colton Underwood and Tayshia Adams' fantasy suite body language onThe Bachelor tells us a lot about how the two are feeling about each other. I spoke to Traci Brown, body language expert and author of Persuasion Point, for all of the details on their physical chemistry during their fantasy suite date.
Before we get into all of that, let me give a little backstory on Adams for anyone who hasn't necessarily been keeping up. The 28-year-old phlebotomist is one of the top three front-runners for Underwood's heart. Before coming on the show, she was married and divorced; she also reportedly dated model Chase Olswang, who Life & Style says she reportedly dumped "the night before she left" to be a contestant on The Bachelor. She's been a front-runner for Underwood's heart from the start, even snagging one of the first kisses from him at the beginning of the show.
After their almost season-long romance, Adams finally made it to the fantasy suite episode with Underwood where the two did, in fact, wind up spending the night together. However, both Adams and Underwood confirmed on camera that they didn't have sex.
That being said, all of the three women who have made it thus far seem to have incredible connections with Underwood. So what we really want to know is what makes his fantasy suite date with Adams unique? How do these two, in particular, feel about each other now that the final rose ceremony is coming near? Body language tells all — hips don't lie.
She's usually the one initiating their kisses.
At first glance, it seems like this is just a romantic little video of an extremely good looking couple locking lips. (This took place during their day date in Portugal before they entered the fantasy suite.) But, upon further explanation, it becomes clear that she is the one making more of an effort.
"She's the one leaning in for the kiss," says Brown. "He's not putting the effort into it."
That being said, they still do have genuine moments together.
Even if they do have certain moments for the camera, the couple does have some genuine moments, according to Brown.
"I like the genuine smiles on both of their faces," she says. "He's leaned into her. And she's holding on to him." That being said, Brown jokes that one of the reasons she's holding onto him in this particular situation could be that she's afraid of falling out of the helicopter. But, hey, I'd argue that you can simultaneously be into someone and hold onto them for dear life.
Some of their connection may be scripted.
The morning after, the two seemed more relaxed.
The morning after the two spent the night together, their chemistry did seem to improve for a bit.
"They both look pretty relaxed lying there," says Brown. "He's finally reached for her hand." And they also finally seem to be on the same wavelength. "Seems like they've got about the same energy for each other," she says. "It's a tender, relaxed moment."
But it's not long until they fall back into their usual habits.
Here we go again with the lack of effort from him.
"She's giving him her full attention, fully looking him in the eyes and angled his way and crossing her legs towards him," says Brown. "He's not as engaged, only slightly angled her way and looking down. Is it a cute shy moment or is he avoiding her gaze? We can't quite tell here!"
Kissing seems to consistently be an issue.
Their goodbye kiss after their night together was, unfortunately, anything but magical.
"I heard him say that he was tired the morning after and this pic seems to show that," Brown starts. "She's got lots of energy and is doing her regular pattern with him, which is to reach for him."
Brown also notes that he consistently does not put his hand on her cheek when they kiss — this seems to be particularly odd because "he's shown a pattern of placing his hand on his lady's cheek when they kiss throughout the show."
In general, it seems as though these two are a mixed bag. But Brown isn't too convinced that they're going to be able to make it for the long haul.
"Overall I'd say she's way more into him than he is into her," she says. "It's not just in these pics. This body language is consistent over time. So as cute as they are I'd say he's not going to pick her."
Find out who Colton actually picks during the finale airing on March 11 and 12.