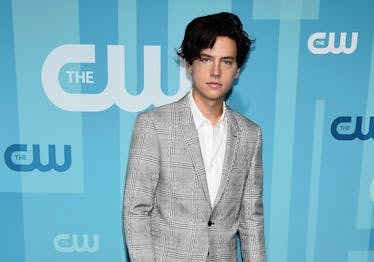 Cole Sprouse's Net Worth Will Make You Want To Join The 'Riverdale' Cast ASAP
Dimitrios Kambouris/Getty Images Entertainment/Getty Images
No matter how ridiculous Riverdale gets, I will always love it, mostly because of how amazing Cole Sprouse is as Jughead. Sprouse's dark, brooding journalist prevents Riverdale from getting too soap opera-y, and honestly, I'm super grateful for it. The 25-year-old actor has been a Hollywood regular for his entire life, and now that he's a bonafide adult (plus a bonafide snack), I'm curious how much he's earned from his long career in the industry. As it turns out, it pays to be an incredibly talented twin, because Cole Sprouse's net worth is something young actors can only dream about.
Sprouse's net worth currently sits at a reported $8 million, which is a lot when you think about the fact that plenty of 25-year-olds have barely enough in their bank account to pay for boozy brunch. The vast majority of this $8 million comes from his acting career. Sprouse and his twin brother, Dylan, have been acting since they were toddlers, and Sprouse appeared in hits like Big Daddy, Grace Under Fire, and Friends at a very young age. These projects definitely payed well, but Sprouse's real payday came in 2005, when he and his brother were cast on Disney Channel's The Suite Life of Zack & Cody.
According to The New York Post, the twins each made $20,000 per episode, which adds up after 87 episodes of Suite Life and another 71 episodes of spinoff The Suite Life On Deck. How's your math? Mine isn't great, but my calculator is telling me that Sprouse made at least $3.16 million for starring in the Suite Life franchise, and that is a ridiculous amount of money for a 16-year-old to be making.
After The Suite Life On Deck ended, Sprouse took some time off from acting to go to college at New York University, where he developed a passion for photography — a talent he's put to use both professionally and personally as he taunts us with photos of his potential girlfriend and Riverdale co-star, Lili Reinhart. Sprouse graduated in 2015, and it wasn't long before he was ready to return to acting: He was cast on Riverdale in 2016, and the show quickly became a massive hit. Sprouse's Riverdale salary has been kept under wraps (if he won't comment on his relationship with Reinhart, you know he won't talk about his paycheck), but it's probably safe to assume that he's one of the highest-paid members of the cast.
Sprouse is certainly not lacking funds now, but he explained during a Reddit AMA that he wasn't always so fortunate. When a fan asked why Sprouse got into acting, the star responded that as children, he and his brother worked primarily to support their family:
I think many young celebrities from my upbringing face a similar dilemma: Acting was, for a long time, a means to keep my family alive financially ... [Being] that I was put into it before I made a conscious decision to pursue [acting] out of passion, the only definition I had for the artform was a business/survival definition. It affected every aspect of my involvement: my ability to improve talent-wise, my care, my choosing projects, etc. That until I took a large break for re-definition of that artform, I couldn't possibly return.
This makes sense: Looking back, it's shocking that the super-private Sprouse was ever a Disney Channel star. Now that fans know that he and Dylan chose The Suite Life for financial reasons, his six years on the show and its spinoff make much more sense.
Unlike his previous projects, Sprouse said that Riverdale is all about "passion," and he loves being part of the amazing cast:
Now it's much more enjoyable, and Riverdale is so much fun to be a part of. Now it's passionate.
Somehow, I think that Jughead would love that Sprouse is following his passion.
Riverdale was just renewed for a Season 3, so you know Sprouse is about to rake in even more money from The CW hit. Celebrate with a milkshake, Cole, because that net worth is only going up from here.