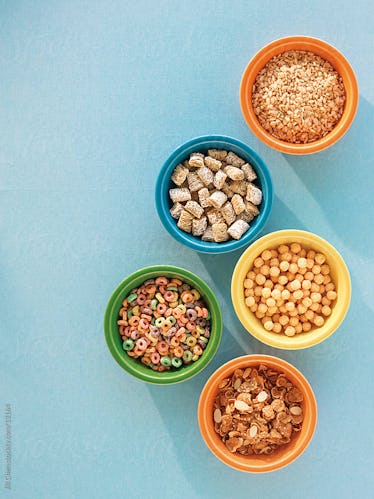 Cold Stone Ice Cream Cereal Exists & It's Perfect For Summer Inside Or Outside
Jill Chen/Stocksy
For those who love breakfast, but hate to spend their days inside, have I got the perfect treat for you. Cold Stone Ice Cream Cereal is real, and it's answering all of our summertime snack prayers. Just try not to melt in the heat.
How did we hear about this incredible delight? Well, PopSugar reports that junk food insider Snack Cellar took to Instagram to share a sneak peak of Malt-O-Meal company's Cold Stone Ice Cream Cereal creation. In the post, the brand's Birthday Cake Remix cereal is pictured, and honestly it sounds amazing. What goes into this incredible concoction? Well, this particular cereal is a mixture of "cake batter flavored cereal with chocolate flavored marshmallows." But wait, because there's more. In addition to the birthday cake flavor, there's apparently also another flavor called Strawberry Blonde, which is a combination of "honey graham and strawberry flavored cereal with marshmallows." I'll take both please. After all, isn't breakfast the most important meal of the day?
Usually when incredible discoveries like these are found, we have to wait in anticipation for them to hit stores. Well, luckily for us, this time that isn't the case. Snack Cellar claims that Cold Stone ice cream cereal will be hitting stores nationwide in June. Have I ever been so excited for a month to come? I don't think so.
Judging from the amount of sugar that'll probably be in each of these cereals, it might not be kid friendly. However, as a 25-year old, you can definitely catch me chowing down on a few bowls of this summertime treat. Trix may be for kids, but Cold Stone ice cream is for Millennials.
I don't know about y'all, but to me summer basically is synonymous with ice cream. What's more comforting than hearing that soothing jingle from the ice cream truck? Or kicking back by the pool with an ice cream cone in your hand? Nothing sounds better to me, especially when it comes to Cold Stone Creamery.
Never been able to visit a Cold Stone? Let me give you a rundown on how the process works. You're able to order your preferred ice cream flavor and then, the employees will throw it on a huge granite slab to start this beautiful ice cream journey. Once the ice cream hits the slab, the employees will mix in the toppings of your choice, ranging from Heath bars to Kit Kats to gummy bears, to create your dream ice cream creation. Does this not sound like a religious experience? Spoiler alert: it is.
Even though Cold Stone cereal is clearly a gift, sometimes you just need to enjoy a chilly, melty cone. It may not be made on a granite slab, but Baskin-Robbins is offering $1.50 ice cream scoops in honor of their "Celebrate 31" promotion. The ice cream chain officially features 56 flavors, with options including Boston Creme Pie, Cherry, Cookie Dough, and of course Chocolate. So yes, it may not be exactly breakfast — but could you imagine eating 56 bowls of ice cream flavored cereal? I would usually accept such a challenge, but maybe that's too much of a reach even for me.
Summer is here, everyone, and it's time to sit back, relax, and enjoy these chilly treats. I may not love the heat, but at least there are some added perks. I personally can't wait to enjoy my ice cream cereal in the morning, and then a nice cone later in the afternoon. This is the definition of living my best life.
The year 2018 may be a disaster politically, but in regards to the ice cream game, it's nothing but fire.