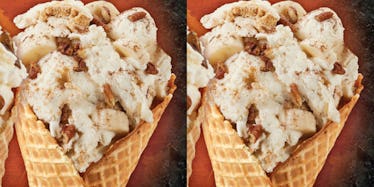 Cold Stone Creamery's Banana Bread Batter Ice Cream Will Put You In The Mood For Fall
When it comes to ice cream, any day of the year is fair game. In my opinion, 80 degree weather is just an excuse to consume my frozen concoction even faster to keep it from melting. TBH, I'll also happily bundle up in a cozy sweater (or a parka) to enjoy a cone when winter comes around. Needless to say, I was more than a little excited by Cold Stone Creamery's Banana Bread Batter Ice Cream and all of the other delicious flavors that the retailer is offering to welcome the changing seasons. The new flavors include blue marshmallows, rainbow chocolate chips, and even a mash-up of a cake and a pie (Um, what?!), and my ice cream-loving heart is so ready.
Scoop enthusiasts, prepare your taste buds, because not one, but three new ice cream flavors are coming to your local Cold Stone Creamery starting Wednesday, Aug. 29, according to a press release. Each of the new options sounds more delicious than the last, but let me start with the one that really caught my eye: Banana Bread Batter Ice Cream. As someone who appreciates the fact that it's now socially acceptable to consume cookie and cake batter in public, this half-baked flavor sounds like it's sure to be one of my favorites.
I also love the nostalgia element. It's hard to find time to bake cookies, let alone banana bread, and this flavor will make you feel like you're a kid again and licking the spoon when grandma isn't looking. The recipe sounds legit: According to the press release, Almost Baked Banana Bread comes with chunks of banana, pecans, and cinnamon are swirled into the banana bread batter ice cream — and I'm already salivating.
Another option that I'd love to try is the Sweet & Salty Twist, which, you guessed it, is all about the weirdly delicious combination of sweet and savory. Per the press release, Sea Salt Caramel Ice Cream, which happens to be made with Ghirardelli Chocolate, is then mixed with a Ghirardelli Milk Chocolate Caramel Square and their Sea Salt Caramel, as well as pretzels for some extra salt and crunch amidst all that chocolate.
The other ice cream flavor, Blue Arctic Marshmallow Ice Cream, serves as the base for the Yummy Yeti Confetti and Migo's Marshmallow Medley Milkshake. They sound pretty similar (both feature rainbow chocolate chips), but the Yummy Yeti Confetti is garnished with marshmallows and powdered sugar while the milkshake is crowned with whipped cream.
The last new menu item on the press release might be the item that I'm most intrigued by. According to Cold Stone Creamery, its "PieScream" cake is basically a mash-up of a cake and a pie — and it's probably totally delicious. Apparently the concoction starts with a Graham Cracker Pie Crust, which is then filled with layers of sweet and salty Sea Salt Caramel Ice Cream and the yellow cake you know and love from your childhood. The whole dessert is then topped with white frosting and Ghirardelli Sea Salt Caramel. It definitely sounds like more of an ice cream cake than a pie, but I'm totally fine with that.
Unfortunately, even if you're down to get some frozen treats any day of the year, the three new ice cream flavors are only available for a limited time. You only have until Nov. 27 to get your fix of these fun fall flavors, so I'd hurry in to your local Cold Stone Creamery and get your ice cream craving satisfied ASAP.