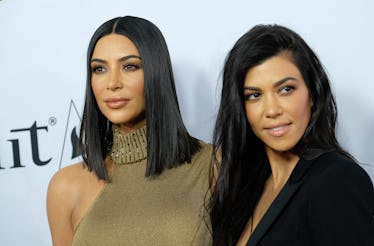 Kourtney Kardashian Finally Addresses Pregnancy Rumors With Just Two Tweets
CHRIS DELMAS/AFP/Getty Images
With oh-so-many Kardashian/Jenner pregnancy rumors floating, the only way to know for sure who is and isn't pregnant is for one of them to personally confirm or deny the rumors. Finally, one of them has shot down the pregnancy buzz. Kourtney Kardashian is not pregnant, but she totally knows how that rumor took off.
It seems it all had to do with an interview that she did with Grazia magazine, where Kourtney reportedly said "I'm pregnant," but the quote was taken out of context and well, this is how rumors get started, guys.
Grazia's headline for Kourtney's interview read: "Kourtney Kardashian: 'I'm Pregnant Too!" Yeah, I totally get why fans were confused and why Kourtney felt the need to explain everything.
Further in the article, the writer notes that Kardashian said she was "joking after an uncomfortably long pause" about being pregnant, but they decided to lead with that headline?
Kourtney hopped onto Twitter to clear things up (and fans are so grateful for the official word on things because, honestly, all of these Kardashian/Jenner pregnancy reports are getting out of hand).
She tweeted: "I see online that I said I was pregnant in an interview, but that was completely taken out of context." Kourtney further explained, "The interviewer asked me 'What's a crazy rumor that you've heard about yourself?' and my answer was... 'I've heard that I am pregnant.'"
Context matters. Earlier this month, Life & Style reported that Kourtney was pregnant with boyfriend Younes Bendjima's baby.
Prior to getting the official word from Kourtney, many fans were putting together the clues that she probably wasn't pregnant, including the fact that momager Kris Jenner never confirmed it, nor did anyone in the family talk about it. And, of course, Kourtney didn't post any pics on Instagram that showed a possible baby bump or the reality star attempting to hide one. It seemed like this rumor was all but dead, but hey, it's always good to get the official confirmation.
All the baby buzz kicked off when it was reported on Sept. 22 that Kylie Jenner was pregnant, then a couple of days after that, there were reports that Khloé Kardashian was expecting, as well as the continuing buzz that Kim Kardashian and Kanye West were expecting another child via a surrogate, which Kim confirmed in a Keeping Up With the Kardashians promo.
Kourtney also spoke with the magazine about any regrets that she's had about doing a reality show and one thing stuck out in her mind. Kourtney explained: "The first thing that comes to mind is sharing the birth of my kids on the show. But you live and you learn. If I started to think of regrets I would probably go crazy."
Interestingly, however, sharing that personal moment wasn't all bad, as she explained:
I was sitting in my doctor's office recently and this woman came up to me and told me that they had to watch me giving birth in her birthing class. It was to prove it could be beautiful and calm and not people screaming at the top of their lungs and feeling so, like, frantic. I was so scared before I gave birth, but I had a beautiful experience. I'm happy I shared that.
Who knew KUWTK could be so educational?
So, it looks like fans will have to wait on an official confirmation (or denial) from Kylie and Khloé about their reported pregnancies, but at least we all know where Kourtney's at with the latest rumor.
Check out the entire Gen Why series and other videos on Facebook and the Bustle app across Apple TV, Roku, and Amazon Fire TV.