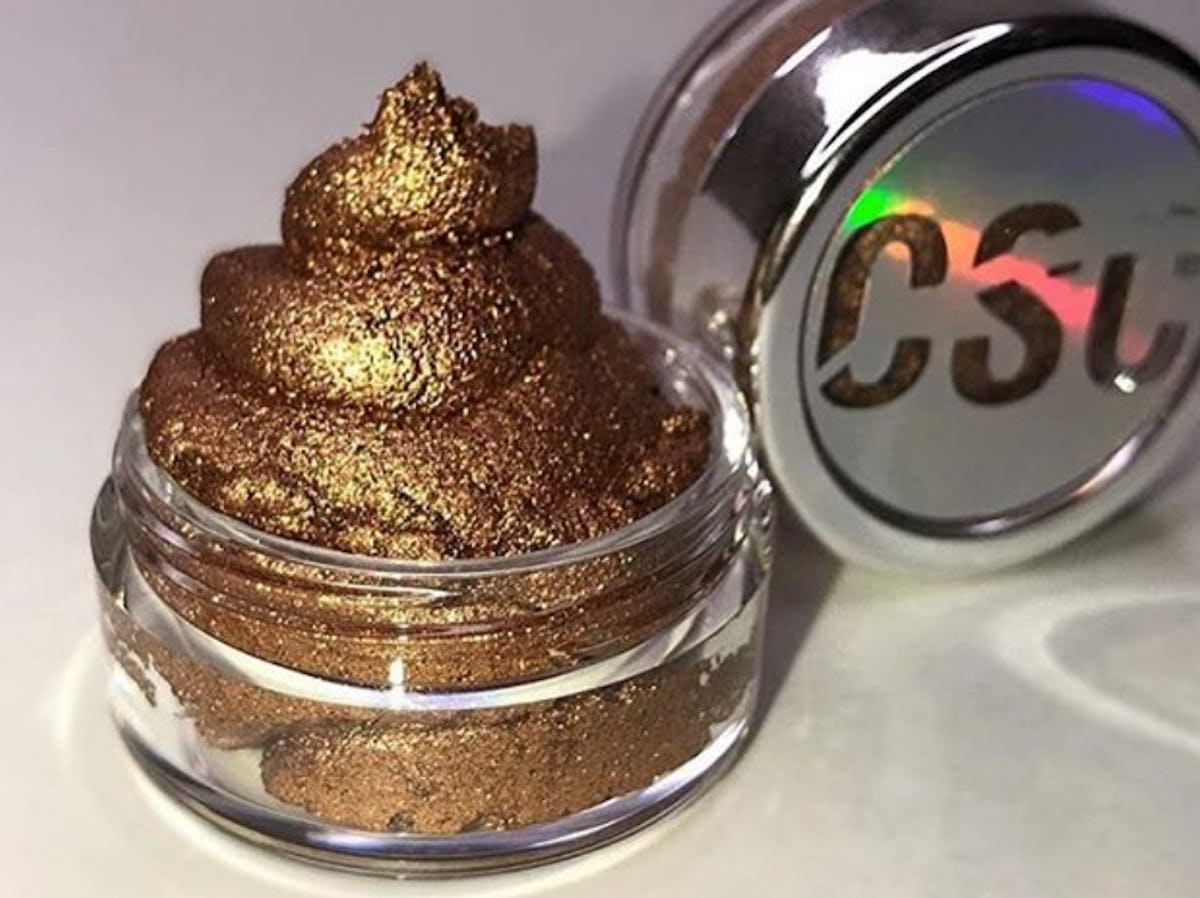 This Poop-Shaped Highlighter Is Taking Over The Internet & I'm Having A Hard Time With It
Boundary-breaking illuminators are nothing new. Rainbow and blood-stained highlighters were made popular by Bitter Lace Beauty in 2016. Shortly after, penis and vagina illuminators entered the mainstream, thanks to Bitch Slap Cosmetics. Now, the Clean Slate Cosmetics "poop" highlighter is going viral and will apparently highlight the sh*t out of your face, both literally and figuratively.
This product began its internet takeover thanks to popular YouTube beauty guru, Tati Westbrook. With so much makeup information circulating around the inter-webs, it's hard to know whose opinions you can trust. As a makeup artist, I can confidently say I agree with Westbrook's opinions on products the majority of the time. I actually watch her videos everyday because they're so informative and thorough. So if Tati Westbrook says this poop highlighter (ugh) is good, then it must be really good.
As many beauty gurus do, Westbrook discovered this product, and the indie brand behind it, as she scrolled through her Instagram. On the Clean Slate Cosmetics page, Westbrook saw a picture of a highlighter that looked very similar to the poop emoji we all know and love. Westbrook ordered the product a few months back, waited for it to arrive, and finally uploaded her review as the first video of the new year. What a way to kick off 2018.
Now, let's be honest: the product in the video looks vastly different from the image that appeared on Instagram. Where has the poop-shape gone? I was told there would be poop highlighter. First click-bait scandal of 2018.
Westbrook compares receiving the highlighter to ordering burgers at McDonald's: they look photoshopped perfect on the screen, but when you receive them, it's like "eh."
All of the Clean Slate Cosmetics Whipped Highlighters ($17; cleanslatecosmetics.com) (which is what the product is officially called) are depicted in the same way on their Instagram account. Whether it's holographic, iridescent, or duo-chrome, all their highlighters resemble the poop emoji.
Now it might just be that Clean Slate Cosmetics just jumped on the product-squeezing video bandwagon that is so popular on Instagram right now.
So ridiculously satisfying. Just look at the way the glitter flows into the container.
TBH videos like this are so addictive, I don't blame Clean Slate Cosmetics for following into the fad. However, as a consumer, I would be a little disappointed after receiving these in the mail. The images of their products on both their website and their Instagram page would lead customers to believe the whipped highlighters were actually poop-shaped.
Glazed Donut Whipped Highlighter, $17, Clean Slate Cosmetics
Though the product was visually not what Westbrook had been hoping for, she was still excited to try the product and was shook but its texture. Westbrook said the consistency of the product felt more like foam than putty, the most viral formula of 2017. In fact, the first one she opened fell right out of the clear container, but maintained its shape as she caught it in her hands.
Westbrook reported that the highlighters are super pigmented and extremely reflective. The product itself is easily moldable like putty or slime and, accordingly, is very, very messy if you play with it for too long.
Westbrook of course gave us updates as she went about her daily errands and travels, and the highlighter continued to look glorious after hours of wear.
So overall, the Clean Slate Cosmetics is #tatiapproved. The formula, the application, and the long-wear capabilities did impress the beauty guru. However, if you're looking to buy the highlighter for its appearance as a product, then you'll be sorely disappointed. Unfortunately (or fortunately) this poop highlighter looks nothing like poop IRL.