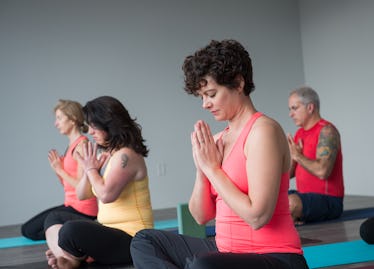 ClassPass Made A Huge Change In Its Service & It's Exactly What You've Been Asking For
Fitness enthusiasts, rejoice: ClassPass just made it so much easier for you to get your sweat on every single day, in the way you want. The new ClassPass credit system is all about flexibility, with the intended goal of giving users the best bang for their buck, both for quality and for quantity.
According to the brand's press release, the new ClassPass credit membership is fundamentally different in three essential ways: First, "dynamic pricing" will allow you to pick lower-credit classes (like gym time) so you can attend more classes per month, if you're looking to get a workout in on as many days as possible. Secondly, the addition of "premium" classes during peak hours will allow you more opportunities to get into the most popular workout classes you've been dying to try, but could never make.
Lastly, and perhaps most importantly, ClassPass is doing away with "studio limits," meaning that members can now attend any class they like as many times as their membership will allow. This is potentially the biggest game-changer, because previously, most studios had a limit of two to three class uses per month by those attending through ClassPass.
The new ClassPass credit membership updates are a direct response to the frustrations that ClassPass users have had in the past.
ClassPass founder and chairman Payal Kadakia explained the changes in the brand's press release:
In keeping with our mission to inspire people to live their most active lives, these new features will imbue ClassPass members with more flexibility and freedom than we've ever been able to offer before.
By enabling studio loyalty and providing more bookable class options, we hope members feel that their opportunities to work out with ClassPass are limitless.
There are a few additional updates to the credit membership to sweeten the deal for anyone who isn't already sold on the new business model. One of those changes, per the brand's press release, is the opportunity for credits to roll over into the next month, on the off-chance you don't use up all of them. (Side note: I've been there, and it's pretty painful seeing all that money slide down the drain.) You'll also be able to filter classes by credit, which makes things way easier and more straightforward when you're running low on those credits.
Though the brand was created just four or five years ago, ClassPass has already logged 45 million reservations for workout classes thus far.
Before the latest changes, ClassPass users were able to sign up for three-, five-, or 10-class memberships, without much flexibility, with pricing changes based on geography, TechCrunch reports. But now, these changes are working to reflect the distinctions in quality and demand between classes. It makes complete and utter sense, for example, that a 60-minute reservation at a local gym shouldn't cost as much as a luxury spin class in, say, downtown Beverly Hills. The decision to move toward dynamic pricing was not accidental, as Fritz Lanman, the CEO of ClassPass, explained at a Disrupt SF conference in 2017:
We're a subscription company, and we are aggregators just like Netflix and Spotify. But we look at companies like Uber, who have dynamic pricing, and see an opportunity that combines the best of both worlds. Marketplace pricing incentivizes customers to find great value and opens their eyes to a new workout they would have never given the time of day to
According to TechCrunch, the new ClassPass model will allow you 27 credits (which is around two to four classes) at $45 per month.
For 45 credits (four to six classes), you'll pay $75 per month, and for 90 credits (up to 12 classes), you'll shell out $135 per month. Averaged out, this comes down to roughly somewhere between $10 and $15 dollars per class, which is a pretty sweet deal, if you ask me.
ClassPass' new changes reflect a direct commitment to making its customers happy, and that should be something everyone can buy into.