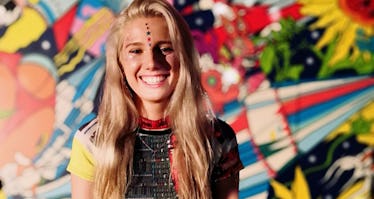 How This 23-Year-Old Artist Became The Talent Behind Your Favorite Snapchat Lenses
Ollie Ali
As a kid, you probably were asked, "What do you want to be when you grow up?" While many of us likely had typical answers like a doctor, teacher, or firefighter, Clara Bacou, 23, was busy doodling away. Growing up in London, Bacou, who now freelances as an Official Snapchat Lens Creator, was surrounded by creativity. Her childhood has paved the way to help her land a dream gig creating Lenses for Snapchat.
"People think it's harder than it looks, but when you get into it it's actually pretty easy," Bacou tells Elite Daily in an interview. "Creating augmented reality graphics felt hard to me at one point, but now it feels easy to use. That's something I'm really grateful to Snapchat for."
Bacou is part of the exclusive team of a few dozen developers and creators from around the world selected by Snapchat to bring their unique style or point of view to the app's augmented reality. In 2017, Snapchat launched Lens Studio, a desktop app open for the community to design and build their own Snapchat Lenses, according to a Snapchat spokeswoman. The lenses, which are grouped into World Lenses and Face Lenses, allows the user to alter reality by applying a filter to their face via a front-facing camera or bringing an augmented reality character to their environment by using the rear-facing camera. On average, more than one in three daily active Snapchat users interact with Lenses each day, according to a spokeswoman for the company.
When Snapchat reached out to me, it was a total dream come true.
As an Official Lens Creator for Snapchat, Bacou creates the augmented reality lenses, like Fu Dog and the Flying Dragon. She creates anywhere between two to four Lenses a month for Snapchat, which clients either request or she works on her own to develop. As an Official Lens Creator, she has access to performance insights, revenue opportunities, technical and creative support, beta features and templates, as well as media and event collaboration, according to Snapchat.
Bacou, a full-time freelance artist, got involved about a year after the Lens Studio launched. To Bacou's own surprise, Snapchat reached out her after coming across her work online, and wanted to bring her on as an Official Lens Creator. She officially started in April 2018 and calls the entire experience "surreal."
"It's amazing to be a Snapchat Lens creator," says Bacou. "I remember when I first saw the Snapchat Dancing Hot Dog, I thought it was an incredibly cool thing that there were starting to be organic characters in the world around us. I've always been very interested in avatars and 3D design. When Snapchat reached out to me, it was a total dream come true."
Bacou's first Snapchat Lens was the Flying Dragon, which took about three weeks to complete due to the complexity of the animations. It was also the first time she worked in the Snapchat Lens Studio. Her second Lens was Fu Dog, an animated mask that goes over the user's head and responds to the user's different facial expressions.
"I was working in many different layers of 3D that I hadn't ever touched before. I spent two weeks working on rigging and animating and just one week modeling and setting up the Lens in Lens Studio," said Bacou, whose Dragon Lens has been viewed over 300,000 times.
To create the lenses, Bacou works in a variety of different software programs to realize 3D models, animation, or composition. She starts with a concept sketch and models the artwork with a digital sculpting tool known as a Zbrush, which she compares to the more traditional methods of sculpting. "It's just like I'm working with a piece of clay, but it's done digitally and I'm sculpting on top of it," says Bacou. "It's like drawing, but in 3D. I'm constantly taking away and adding to it."
The main thing is to develop your own unique style.
From there, Bacou renders the designs, decides on the kind of materials and lighting the object will have, and if she wants to add in an outside environment or ambiance using different texture and layers. If Bacou decides to animate an object, she follows a bit of a different process. She first creates the framework of the design, which allows her to move it around, frame the positions, and use the animation software to create a sequence of images that move.
Bacou gets her inspiration and ideas from a wide variety of art forms. She says she loves the flat design of cartoons and comics, but also enjoys the intricacies of classical art and contemporary paintings. In all of her work, the goal is to marry those two styles together.
"The hardest part creatively speaking, is that, in art school, they tell you that you have to have an idea — that it's the most important part of the creative process. That, if you don't have an idea for art, then you have no concept or message that to convey and what you're doing is redundant or useless," she says. "For me, this was very difficult because I didn't know what I wanted to say. I didn't feel like I had enough experience."
That's where creating your own visual language comes into play, according to Bacou. She calls it one of the main ways she developed her own personal style and brand.
"If you have a strong visual language when you have a message to say, or if someone else does, then you can help them say it in the most appealing way possible," she says. "The main thing is to develop your own unique style — your own way to visually communicate with the world. Let that be the channel for ideas and for other people's ideas. In a way, it's your unique selling point as an artist."
Bacou got her first taste of the industry when she was just 15. The now 23-year-old, who has been uploading her designs to the internet since the age of 14, was discovered online by a gallery in Toronto. Impressed by her designs, the studio invited her to exhibit her work.
"When they called me, they didn't realize I was actually the age I was at the time. They were a bit confused, but they were happy that I was young and still wanted me to send me to send my work over," says Bacou. "It made me really happy because that was my first with someone from the outside world recognizing my work."
What's great about having as many female voices as possible, is that it creates a lot of variation.
That was just the tip of the iceberg for Bacou, who has worked in the industry professionally since 2015. In addition to Snapchat, Bacou's client list includes Netflix, BBC, Uniqlo, Ziggy Marley, and other well-known companies, musicians, and more.
Careers in multimedia animation are on the rise, but Bacou is still a standout. According to the Bureau of Labor Statistics, the industry is projected to grow 8 percent by 2026, but despite the growth, women only made up 23.2 percent of jobs in the animation industry as of 2017, according to Animation Career Review. But the number of women in the field is growing: female representation in the animation industry grew 5 percent since 2015, according to the Animation Guild.
"What's great about having as many female voices as possible, is that it creates a lot of variation," says Bacou. "I don't think we can progress in different areas of industry or society unless we have varying perspectives. It leaves room for growth and change, and I'm happy to be at the forefront of that."
If you're interested in being one of those voices, Bacou says that the first step is knowing how to draw. She calls it one of the most basic skills that will benefit any animator.
"Even though a lot of it is working on a computer, it really helps to know how to draw," says Bacou, who has been drawing since she was a little girl. "It helps to have a background in graphic design so you can understand composition, layout, and design. This helps you know how to work with different visual elements and learn a visual language." Bacou says she has hundreds of sketchbooks full of drawings and ideas, but most of her work now is done digitally.
But she's not done learning. Bacou plans to continue her education by pursuing a master's in digital animation. Eventually, she hopes to work in film, film production, or special effects.
Bacou says she will always be grateful to Snapchat for giving her the chance to dabble in what she loves most — making moving images and learning to augment the three-dimensional world we live in.
"Snapchat is a powerhouse for augmented reality," says Bacou. "They work with so many people and have a lot of knowledge on what works best to tell a story depending on what we need to say, what type of Lens might work best, and what's the best angle. I'm just really grateful for the opportunity. It's all really fast-paced and exciting, and I can't wait for the future."