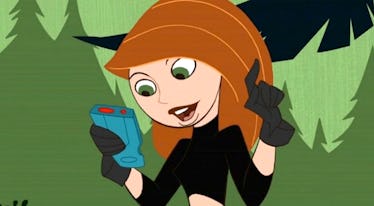 The Original Kim Possible Will Appear In The New 'Kim Possible' Movie
Disney
The upcoming live-action Kim Possible movie has called her, beeped her, and reached the franchise's original star, and now Christy Carlson Romano has confirmed that she will be appearing in the new Kim Possible movie. More than 15 years after she first brought the red-headed teen spy to life, Christy Carlson Romano is set to return for the new Kim Possible movie, although it will not be in the lead role.
Christy Carlson Romano is reported to appear in a cameo role in Disney's upcoming Kim Possible movie, which will mark the first time the animated franchise will be seen in live-action. Nothing else is known about Romano's role in the new movie, but since the film is set to star teen actress Sadie Stanley as Kim Possible, fans should probably not expect to see Romano suit up as the character the she made famous. Romano shared a brief note about how excited she was to join the cast of the new movie on Instagram:
I can't say too much about my involvement yet, but I'm very excited to help usher in the strong, empowered female character I helped bring to life, to a new generation. And I'm equally thrilled to see what the original fans think!
Along with Christy Carlson Romano's involvement, Disney announced that Patton Oswalt is also joining the live-action Kim Possible movie as the villainous Professor Dementor, the role that he originated on the animated series.
Disney Channel also revealed a first look at Sadie Stanley in action as Kim Possible in a new promo clip over the weekend. The brief clip shows Stanly kicking and flipping in Kim's signature black shirt and gloves, ending with her catchphrase: "What's the sitch?" Check out the first-look at the live-action Kim Possible in action below:
Although Christy Carlson Romano's part in the new movie is still in question, the rest of the Kim Possible movie cast has been filling out with a ton of the cartoon's iconic characters. Alongside Sadie Stanley as Kim Possible, the upcoming movies as also cast its Ron Stoppable (Sean Giambrone), Dr. Ann Possible (Alyson Hannigan), Nana Possible (Connie Ray), Dr. Drakken (Todd Stashwick), Shego (Taylor Ortega), Wade (Issac Ryan Brown), Athena (Ciara Wilson), and Bonnie (Erika Tham).
The live-action Kim Possible movie will air on Disney Channel as a part of the network's slate of Disney Channel Original Movies, marking the third Kim Possible Disney Channel Original Movie following 2003's Kim Possible: A Sitch in Time and 2005's Kim Possible: So the Drama. Disney Channel has not yet revealed a release date for the live-action Kim Possible movie, but did say this it will be released at some point next year.
The original Kim Possible cartoon series ran for four seasons from 2002 to 2007 on Disney Channel, following Kim Possible as she tries to balance her secret life as an international crimefighter with the trials and tribulations of high school.
Look out for the live-action Kim Possible movie to premiere on Disney Channel sometime in 2019.