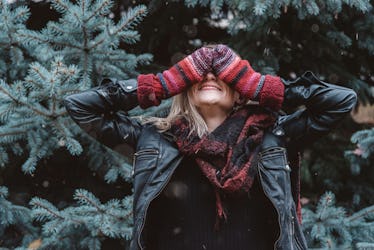 An Actual "Christmas Town" Exists & It's The Winter Wonderland You've Been Sleeping On
There's no doubt that the holiday season is the most wonderful time of the year. There's something magical about Christmas and the days leading up to it. You're instantly filled with childhood nostalgia when you hear your favorite holiday tunes on the radio, and see houses decked in fairy lights and wreaths. Each year, without fail, the wanderlust hits. You dream of visiting a Christmas town like the ones in your favorite movies — where every lamppost is decorated with glittery bows, and the streets are lined with snowy evergreen trees. Well, "Christmas Town USA" in North Carolina is straight out of your holiday dreams, and you need to plan your trip there, literally ASAP.
You likely have an idea of what a perfect Christmasy day looks like. It might be a snowy afternoon where you can have snowball fights and make snow angels with your siblings, and then cozy up inside with a mug of homemade hot cocoa. The ultimate day may also include playing board games with hometown friends you haven't seen in way too long. There's no right or wrong way to celebrate the season, however there are certain places that'll make it easier to get into the jolly spirit of things.
"Christmas Town USA" — aka, the charming town of McAdenville, North Carolina — is one of those places that feels like it's straight out of a fairy tale. People from throughout the country travel here to experience the magnificent sights of the season. Every home is decked out in bright lights, and the entire town is full of holiday cheer. Whether you head there with family or friends this year, it's the perfect destination for anyone who may be searching for some magic.