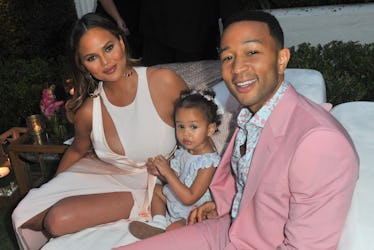 Chrissy Teigen Filmed Luna Getting Her First Passport & The Vids Are Adorable
Jerod Harris/Getty Images Entertainment/Getty Images
Confession time: I don't have a passport yet, and therefore, have no idea what the process is like. But I would assume there's a proper protocol you're supposed to follow when getting one, like, say, dressing in neutral colors. Or keeping your makeup simple and natural-looking. But then I logged online on June 29 and saw Chrissy Teigen's videos of Luna getting a passport. Let's just say, she showed up looking fabulous, and I now hereby give myself permission to wear and look however I want when my time comes.
Teigen shared two videos on Instagram of Luna inside of a Kinko's store, where she was about to have her passport photo taken, per Billboard. The Lip Sync Battle host captioned the first shot "Let's get this sh*t over with" — which shows the 2-year-old glamorously walking into the store, dressed in a red dress, a beige jacket, and fabulous pink sunglasses with a matching water bottle.
But the posts get even better than that. The second video shows John Legend sitting in a chair and holding Luna with a white sheet separating the two of them, likely in attempts to get her to cooperate for the photo. So, at a glance, it looks like Luna is posing in front of the regular backdrop that's used for passports, but in reality, it's her dad whose keeping it all together — or trying to, at least. To be completely honest, his efforts didn't help the shot go smoothly at all. Teigen can also be heard in the background trying to get her daughter to smile, yelling "cheese," but the pint-sized baby girl didn't flinch a bit. Check it out.
Wow, an icon that does whatever she wants.
Twitter users were equally obsessed.
One person asked Teigen how she always manages to bring tears to her eyes with her babies, and honestly, same.
Teigen's latest post merely shows all the hilarity that goes down on her social media — like on June 21, when she took to Instagram to troll her hubby for his latest rose winé release.
She kicked the post off the post not by congratulating Legend on his release, but by announcing the singer had hit her up for some promo because she has a "much bigger" social following than him. Then she went on to ask herself countless questions about the meaning of his request. She wrote:
My husband, John, asked me to post this because I have a much bigger social following than him. He said just something short and to the point. I said 'ok john!' then had my agents follow up with a comprehensive pricing list. did he want me to keep this up for just today? a week? forever? did he want me to take a photo *with* the product, or simply the product alone? who is the photographer you are sending over? or are we using an outside location? these are important questions in an Instagram deal and a marriage.
Then, she (finally) started raving about how good his wine his, telling her fans that it literally goes with anything, and can even be sipped with "cupped hands." (Don't ask — I don't have the answers, either.)
you can drink it with fish, chicken, broccoli, candy, Chinese food, cereal, chili, corn, hot dogs, rice, anything, out of a glass, bowl, pitcher, ladle, cupped hands, hat. It can be stored in the fridge, on a dining table, a counter, in a cabinet, an end table, really wherever you want! congratulations, John!!! buy it here: lvewines.com
How can you not love this family? Ah, we don't deserve them.
(But please keep these posts rolling in, Chrissy. I don't know what I'd do without them.)