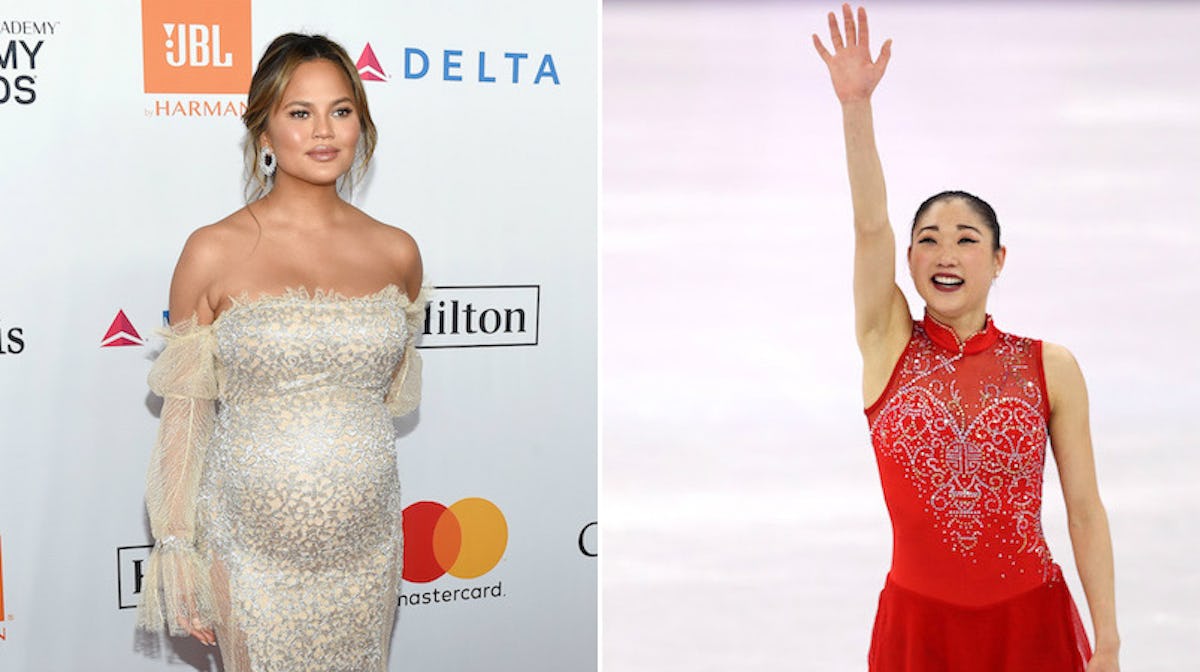 Chrissy Teigen Responded To An Inconsiderate Tweet About Mirai Nagasu & It Was Perfect
Nicholas Hunt/Getty Images Entertainment/Getty Images Maddie Meyer/Getty Images Sport/Getty Images
Don't you just love when you find the perfect movie quote or song lyric to co-opt for social media? There's something so completely satisfying about sharing a spot-on sentiment to help convey whatever thought or feeling or image you've chosen to send out onto the interwebs. But what happens when that sentiment goes horribly, horribly wrong, like it did for New York Times writer Bari Weiss on Monday, when her insensitive Olympics tweet stirred up a major debate online? Luckily, our fave social media queen stepped in, and Chrissy Teigen's response about Mirai Nagasu and "perpetual foreigner syndrome" is perfect.
Here's what happened: After Nagasu made history by becoming the first American woman to land a triple axel at the Olympics, Weiss retweeted a video from NBC Olympics, tacking on the caption "Immigrants: They get the job done." It's a quote from the hit Broadway show Hamilton, in case you didn't know (I didn't) and Weiss evidently meant it as praise. But things got seriously intense on Twitter anyway, because Nagasu is not an immigrant. She was born in California to parents who are Japanese immigrants, and she maintained dual U.S. and Japanese citizenship until she was 22.
So yeah, that's a problem. And people called Weiss out on it — big time. Thankfully, Weiss deleted her original tweet after she started getting lit up on social media, but then returned to stoke the flames even further by posting additional tweets in her own defense, instead of just admitting she made a mistake and issuing an apology.
Look, I'm all for standing up for yourself, but sometimes you have to take a step back and listen to what the people who are criticizing you are actually saying. Sometimes, there is actually a lesson to be learned. Only Weiss, apparently, couldn't see it. And so a few hours later, Chrissy Teigen — also Asian-American, and never one to back down from a good Twitter war — decided to insert herself into the controversy like the warrior goddess we all know she is, in an attempt to set Weiss straight.
"It's called perpetual otherism or perpetual foreigner syndrome," she wrote. "No one is ashamed of the word immigrant but it's tiring being treated as foreigners all the time. You made a mistake. It's okay. But people are really giving you calm, great insight. Just learn and breathe. All good."
And that, my friends, is how it's done — with a thoughtful, classy response. The supermodel mama also pointed out in a subsequent tweet that while Weiss claimed she had written "Immigrants: we get the job done" in her original post, what she actually wrote was "Immigrants: they get the job done." Scroll back up and check. I'll wait. It's a subtle tweak, but one that makes all the difference.
I love the way Teigen is always able to successfully shut down drama on social media. She did it on Sunday, Feb. 11, too. After posting pics to Twitter of a scrumptious-looking rack of lamb that she'd whipped up for herself and husband John Legend to share for dinner, some guy decided to roll up and throw a whole bunch of unwarranted shade Teigen's way.
"All you do is eat, sleep, sh*t, and spend other people's money," he wrote. "My perfect partner."
This dude clearly had no idea know who he was messing with, because all it took from Teigen was two little words to let him know who's boss — and who was named the third highest paid model in the world by Forbes.
Boom! My money. So perfect!
Thanks for always telling it like it is, Chrissy!