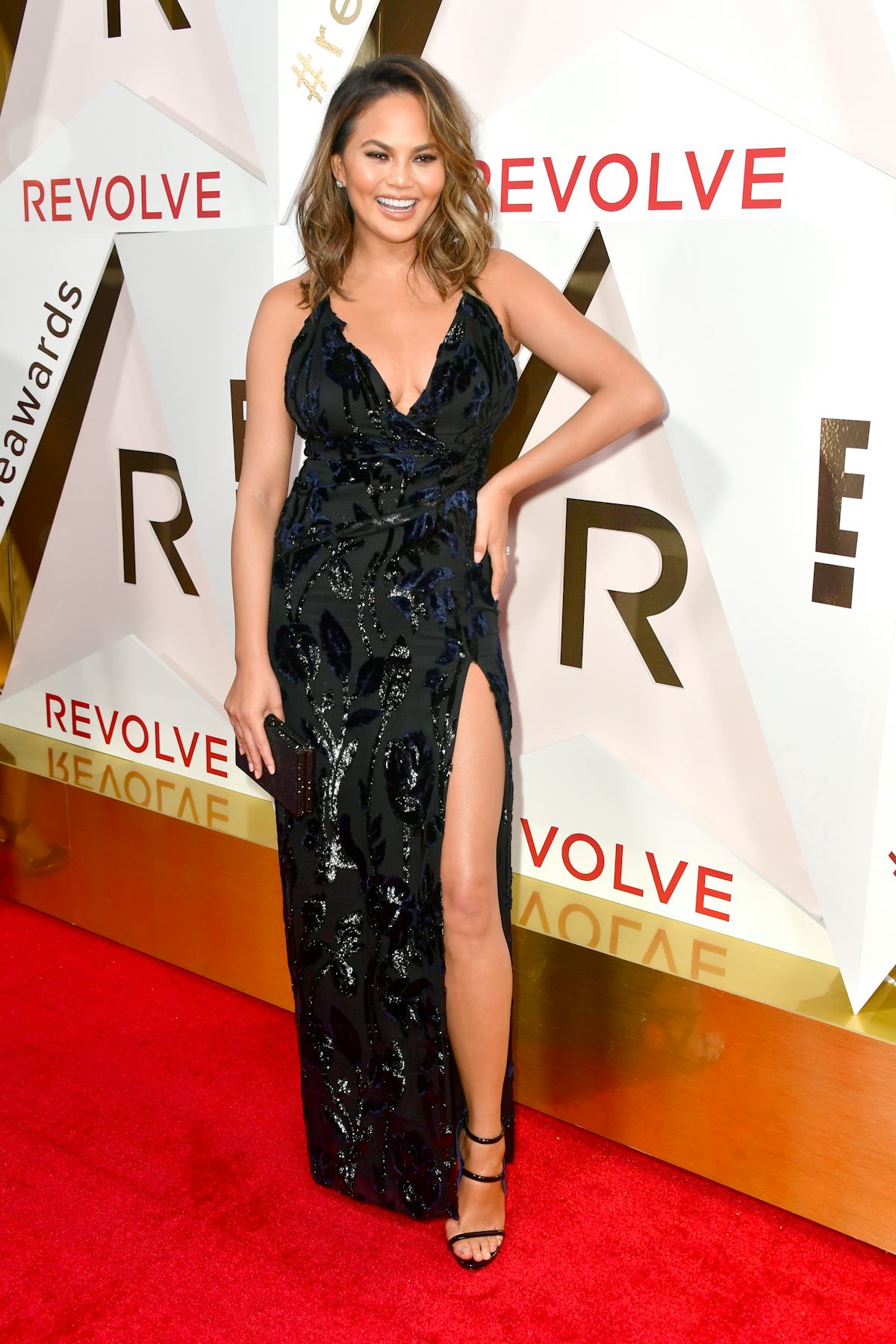 Chrissy Teigen Legit Had Her Birthday Party On A Plane & We Wish We Were Invited
Frazer Harrison/Getty Images Entertainment/Getty Images
Our girl Chrissy Teigen sure knows how to throw herself a birthday party. We all know that she's quite possibly the coolest human being on the planet (and runner-up is absolutely her husband, John Legend, with Luna trailing behind closely in third), but I didn't realize she could get any cooler until I saw what she did to celebrate turning 32. Chrissy Teigen threw her birthday party on a plane, and now I feel even more sad that I don't know her.
Teigen started off her day by getting an adorably sweet post dedicated to her by Legend, and you'd think that maybe that would be a good enough day. You know, enjoy a low-key day with family and maybe a few friends, have your husband tell the entire world that you're basically the female equivalent of his knight in shining armor, maybe eat a slice of cake or four, and then head to bed early to get some beauty rest.
NOPE, not if you're Chrissy Teigen it's not!
Girl went ALL OUT to celebrate her big day: she hosted a party on a damn PLANE and made the entire soiree Pan Am-themed. And when I say she committed to the role, my god. She absolutely crushed it.
Let's start with her ensemble, shall we?
Teigen looked like a 1960s goddess, clearly channeling a young Jackie Kennedy Onassis. She had a coral peplum suit top and a long pencil skirt, topped with a ~swanky~ beret and satin gloves.
She took full advantage of re-enacting the duties of a flight attendant by getting on the loudspeaker, but instead of going over plane safety instructions she thanked everyone for joining her (who wouldn't go to a party on a plane hosted by Chrissy Teigen?):
Bow down. Teigen is a QUEEN.
And if you think John Legend wasn't TOTALLY in on the theme too, you're off your damn rocker. Looking fly as hell in a khaki-colored retro suit, floral shirt and a paper boy cap, he totally dressed the part of the cool-cat husband.
You can see him in all his dapper glory crooning to the party guests in the videos below:
He can't be serious with this level of adorableness. But wait, there's more:
Also check out that waiter. Straight from the '60s, is he not?
Other completely unimportant, no-named guests like Kim Kardashian and Kanye West were also there, looking super casual and not at all famous:
And here's Kanye "He hates traveling, according to Kim" West:
Other guests looked just as chic, with women wearing pillbox hats and and suits that resembled retro flight attendant outfits and men wearing old-school pilot uniforms:
No, you're not watching a classic movie. You're watching a Snapchat video of a birthday party. If that's not #goals right there, I don't know what is.
And remember when I said it took place on a plane? Let's dive into that bit. According to People, her party took place on a Pan Am American World Airways 747 at the adult theme park Pan Am Experience, in Pacoima, California. So not only do we have people who look like they are straight from the 1960s, we have a plane that is LITERALLY modeled to look like it's also straight from the 1960s. I get more and more jealous every time I read a new detail about this gathering.
And who needs party favors when your hostess doles out old-school style cigarettes to smoke, because you know, smoking on planes was totally a thing that was allowed fifty years ago. Before you get enraged about nicotine party favors, relax: they were fake.
But still looked kinda cool with the whole theme, TBH.
So, what have we learned here today, folks? Say it with me now: Celebrities will always, ALWAYS, find a way to have parties that are absolutely, positively, a million times better than any party you will ever throw in your entire life. Period.