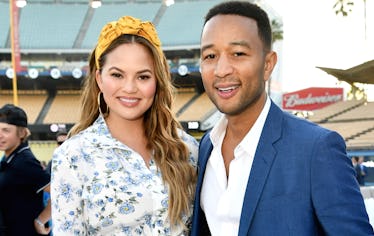 Chrissy Teigen Trolled John Legend With Another Hilarious Joke About Arthur
Emma McIntyre/Getty Images for Los Angeles Dodgers Foundation
Celebrities trolling their spouses is one of my favorite things. And there's a clear hierarchy to them. Blake Lively and Ryan Reynolds trolling each other is cute, but there truly is no beating Chrissy Teigen when she trolls John Legend. She's an expert at trolling just about everyone (Trump, especially), but Teigen is at her peak performance when she's making fun of her husband. And the master has struck again. Chrissy Teigen's Instagram of Luna and Arthur is side-splitting.
The mom of two posted a sweet photo of Luna Stephens to her Instagram on June 20. At first glance, it's just a cute little picture of Luna lounging in the sun with an Arthur stuffed animal in her lap. But Teigen's caption and follow-up comment will go down in history as one of her best trolls ever. Teigen's caption for the photo of Luna and the Arthur stuffed toy hilariously said, "Luna and daddy." I'm weak. But I was slain when I saw Teigen's comment on the photo afterward. Teigen wrote,
This is my childhood Arthur doll. My mom has kept it all this time. Maybe I've been attracted to Arthur my whole life and now I found my real life human one.
CHRISSY. I'M DEAD.
John Legend had but one thing to say about this entire thing: "Wow."
This is clearly some of Teigen's best work, seeing as the photo has over one million likes now. Chrissy Teigen did that. And this isn't the only time the couple has addressed the Arthur resemblance recently.
Chrissy Teigen and John Legend's Google Duo commercial shows Legend dressed up as the fictional character, and it's everything the internet needed.
In the video, Teigen and Legend video chat via Google Duo as Teigen tries to help Legend decide on something to wear. The first couple of outfits are duds, but the last one is a goddamn home run, as it shows Legend dressed up in the iconic blue jeans and yellow sweater that make up Arthur's go-to outfit. In true Arthur meme form, Legend clenches his fist as Teigen laughs and says "ARTHURRRR!!!" It's truly amazing.
It was a recreation of this moment of perfection on Twitter last February.
After people on Twitter started realizing the likeness between Legend and Arthur, Teigen admitted her husband resembled the character and portrayed some expert-level meme usage. She tweeted the photo of Arthur's angry fist and captioned it, "John when you tell him he looks like Arthur." God, I love this woman so much.
And Teigen and Legend love each other so much. That's why they're so chill with trolling each other. (Well, let's be real, it's mostly Teigen doing the trolling and Legend being able to laugh at himself.)
She took a break from the trolling this past Father's Day to let the internet know how much she loves the father of her babies.
She posted a sweet photo of Legend sitting on their couch with Luna to his left and baby Miles in his lap. Her caption said,
What a man, what a man, what a mighty good man. Thank you for the beautiful life and these beautiful lives you have given me. My best friend and partner always, the most loving and generous and kind human in the world. And the smartest. I didn't say funniest so you know I'm not lying here. We love you with all our hearts. Happy Father's Day
This family is seriously my favorite family of all time. And knowing that Teigen has been Arthur fan ever since she was a kid just makes everything a billion times better.