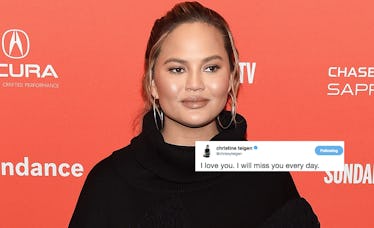 Chrissy Teigen's Dog Puddy Died & Her Message On Instagram Is So Heartbreaking
I'm warning y'all now: If you don't want to cry, don't read this post because Chrissy Teigen's dog Puddy died and I am an emotional wreck. Teigen announced the death of her pupper on Instagram and Twitter on Wednesday, March 7, and I'm literally sobbing all over my laptop. "Not the dog! Anything but the dog!" I keep saying to myself as I ugly cry. Teigen posted a bunch of photos of Puddy on social media to honor her and Legend's first dog together. She said in one of the heartbreaking posts that Puddy was there for them through all of the ups and downs of their lives over the last 10 years.
We've all seen Teigen's adorable Snapchats of Puddy, Pippa, and Pablo, their three dogs, and it's so sad to learn about poor Puddy. Teigen didn't reveal how Puddy died, but all of her posts dedicated to the pup are still so heartbreaking. One of her tear-jerker Instagram posts read,
Today our baby, Puddy, has gone on to the pup heavens. John and I got Puddy in our first year of dating, when I convinced him half-birthday presents were a real thing. 10 years ago, on May 30th, I found the dog that would be there for us through every up, down, new house, new city, new tour, new travel. He welcomed new pups and loved on new babies and new bellies. He was there for everything. Every time I needed a taste tester, someone to kiss or needed to sob into his stinky rolls, he was there. It's true what they say. We are their entire lives and it is the greatest shame that they can only bless us with a short spark of time in ours. I always knew I would lose a piece of me when he left us. I feel the hole now. I will love you forever, my boy. My heart aches. Thank you so much for everything, everything.
RIP, Puddy.
She also posted a set of videos and photos of Puddy loving on baby Luna not long after she was born.
Teigen captioned the sweet post, "I love you. I will miss you every day." And even through all of this, it just wouldn't be Chrissy Teigen if she didn't find something to make people laugh about.
She posted photos of Puddy and Pippa together dressed as a bride and groom, saying they were married for real.
The caption read, "Not many people know this but puddy is survived by his wife, Pippa. yes, they were married." Classic Chrissy Teigen.
The photos are from the parody "All Of Me" music video John Legend made back in April of 2015 in which Legend marries his dogs to each other.
So not only was Puddy a loving dog, but also a loving husband!! I'M UGLY CRYING ONTO MY LAPTOP, GUYS. This is too freaking much for me. I also freaking love seeing dogs in clothes, so this making me emotional times a billion.
Teigen also revealed the inspiration behind Puddy's name on Twitter, and of course it's hilarious.
She tweeted an adorable photo of Puddy sitting in a wagon in her house and said, "Puddy was named after david puddy, from seinfeld, as they both shared a love of sitting and staring at nothing." How funny, I also have a love of sitting and staring at nothing. I feel like me and Puddy really would've connected.
When Teigen and Legend welcomed Pablo into their home back in October, Teigen posted the cutest photo of Pablo and Puddy together.
There's also this cute AF video of Puddy and Pippa trying to decide if they like Pablo or not.
Puddy was clearly a big part of their family. RIP, little buddy.