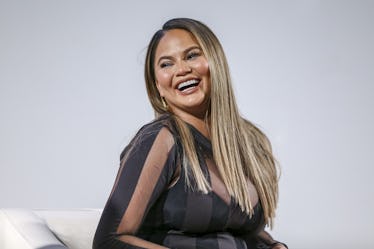 Chrissy Teigen Posted Her Met Gala "Look" & TBH, It's The Only One That Matters
Rich Polk/Getty Images Entertainment/Getty Images
It's been over 12 hours since the Met Gala red carpet began, and I'm still trying to wrap my head around some of the looks I saw. I mean, Katy Perry wore a set of angel wings worth more than my college education. Sarah Jessica Parker wore a freaking nativity scene on her head. Gigi Hadid was a walking stained glass window. And Rihanna is apparently the new pope. But out of the countless ornate, intricate, sometimes out-there looks we saw on celebs at the Met Gala last night, there was only one that really mattered: Chrissy Teigen's 2018 Met Gala "look."
Now, I'd venture to say both Chrissy Teigen and I use the term "look" with the utmost seriousness (LOL) because, seriously, this was a ~LEWK~. But before you start clicking through Met Gala slideshows, trying to remember if you saw Teigen on the red carpet, you didn't. Actually, Chrissy Teigen had much better plans that didn't involve wearing a drop-dead gorgeous, custom-designed gown to a big ol' party at the Met with a ton of her friends. (LOL again.) Instead of a date at the Met Gala, it seems Chrissy Teigen had a date with her couch and with "Vanderpump Rules" on Bravo TV, which sounds exactly like my idea of the perfect "Netflix and chill" type of date, because it involves me not moving and not having to talk to anyone. Clutch.
Still, Teigen was kind enough to share her "beauty look" for the night of the Met Gala, and surprisingly enough, out of all of the looks, I feel like maybe I can actually recreate this one. Maaaaaaaybe.
OK, everyone, listen closely to Teigen's instructions, because we've got a very intricate up 'do on the way here:
This year's #metgala GLAM was #SUPER important to me as I wanted it to really embody the heavenly bodies theme!!! I think we nailed it!! Swipe for for #creds!!! First I shampooed my #hairyesterday with #shampoo then I let it sit for 4 minutes while i #shaved the areas I could see on my #body.
Next, I used a #towel to dry my hair from roots to ends!! Then, I used a #rubberband to secure my hair into a pony that i was careful not to pull out all the way! Lastly, I pulled out pieces around my #ears and #neck ! Full tutorial coming up tomorrow !!!!!!!! Like and subscribe!!!!!
Why is it that when you do Chrissy Teigen's Met Gala hair look at home, it's called a "messy bun," but when you showcase it on a red carpet, it's called something along the lines of a "tousled up 'do"? Ugh, anyway, even though Teigen might not have stepped out on the Met Gala red carpet this year, at least this is one "look" from the night of the Met Gala that I'd have no problem recreating.
Unfortunately, if you were hoping for a makeup breakdown for Teigen's look, well, you won't even need one. For the night of the Met Gala, Teigen went au naturel with her beauty. She posted another selfie on Instagram, with the caption, "I was gonna do a makeup breakdown but I'm honestly just very jealous I'm not there. Also I need to drink water." TBH, "I need to drink water" is the only beauty breakdown any of us really need anyway, because we probably all need to drink more water. Hydration is important, people!
We (yes, even Chrissy Teigen) can't all make jaws drop at the Met Gala red carpet unfortunately, but clearly, we can turn our couches into our own personal Met Gala red carpets. And I, for one, think that's beautiful.