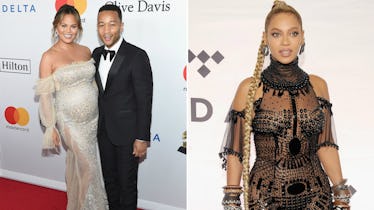 Chrissy Teigen Told John Legend Who Allegedly Bit Beyoncé & I Want The Details ASAP
Nicholas Hunt/Brad Barket/Getty Images Entertainment/Getty Images
Marriage is sacred. It's knowing that you have someone for life to trust. Someone to depend on. Someone to tell your secrets to. And if your secrets just happen to be about a famous celebrity biting another famous celebrity, well, you can count on your significant other to keep that secret safe. In case you haven't pieced the puzzle together: Chrissy Teigen told John Legend who allegedly bit Beyoncé in the face, and honestly, I'm just tacking this onto the list of reasons why I'm jealous of the famous couple. Elite Daily reached out to Beyoncé's team about the reported incident, but has not heard back at the time of publishing. Beyoncé's representative, Yvette Noel-Schure, has told GQ, "I absolutely cannot comment on any of this, as I have no knowledge."
To recap the whole "Who bit Bey?" situation: Actress Tiffany Haddish had a wild tale to tell in an interview with GQ on March 26, claiming that she was at a party with Beyoncé and saw a notable celebrity allegedly bite her face. Haddish claimed, "Beyoncé stormed away, went up to JAY-Z, and was like, 'JAY! Come here! This b*tch—' and snatched him. They went to the back of the room. I was like, 'What just happened?' And Beyoncé's friend walked up and was like, 'Can you believe this b*tch just bit Beyoncé?'"
From there, Haddish claims she was ready to throw down with the unnamed celeb, but Beyoncé reportedly told her to "have fun" instead.
When Beyoncé tells you to do something, you do it, so Haddish reportedly decided not to cause a scene. But as the night was winding down, Haddish reportedly bumped into Beyoncé once more. She claimed, "Near the end of the party, Beyoncé's at the bar, so I said to Beyoncé, 'Did she really bite you?' She was like, 'Yeah.' I was like, 'She gonna get her ass beat tonight.' She was like, 'Tiffany, no. Don't do that. That b*tch is on drugs. She not even drunk. The b*tch is on drugs. She not like that all the time. Just chill.'"
So, in a nutshell, the world is left in the dark about who allegedly bit Beyoncé, but some Hollywood A-listers know all the tea... and won't say a damn word about it.
Just once, I'd like to be on the inside. Just once.
Our girl Chrissy Teigen was initially on the outside (this is probably the first and only time I will have anything in common with her), not knowing who allegedly bit Beyoncé, but claimed that she had an idea as to who it was on Twitter and that that person "is the worst":
But hours later, Teigen updated her fans to let them know that the person she initially thought was the alleged biter did NOT do the biting:
She also tweeted that the person who was revealed to her was someone she "never would have guessed," so now Teigen is on the inside and knows all the tea:
You're killing us, Chrissy.
And now, in a new interview with Power 105.1's Breakfast Club, John Legend confirms that his wife spilled the beans to him about who allegedly bit Beyoncé.
Charlamagne asks Legend, "Do you know who bit Beyoncé?"
"We weren't there, but we know people that were there. We know what happened," he claimed, adding, "Chrissy knew before I knew, and she told me. We're sworn to secrecy ... She told me in person. She didn't want any electronic record."
That is some top secret stuff if you ask me.
For reals, Kris.
You can watch the whole interview below, where the crew discusses Legend's role in Jesus Christ Superstar, but if all you care about is Legend talking about who allegedly bit Beyoncé, then you'll want to start around the 7:50 mark:
If you're hoping that someone is going to spill, it's highly unlikely. Tiffany Haddish even signed an NDA, and, during an Instagram Live session, said, "NDAs are real, so I'm not saying sh*t about nothing."
Smart move if you ask me.
So, I guess we'll just add John Legend to the list of people who know way more than we ever will. Lifestyles of the rich and the famous, y'all.