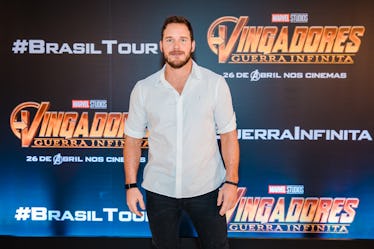 Chris Pratt Listed 9 Rules For The Next Generation In His MTV Movie & TV Awards Speech
Mauricio Santana/Getty Images Entertainment/Getty Images
What's the best part about award shows? The speeches, obviously. OK, maybe the performances too, but awards show speeches tend to either be funny, adorably sentimental, or give us something to think about. Thankfully Chris Pratt's 2018 MTV Movies & TV Awards speech gave some much needed words of wisdom to the future generation, and I am definitely writing them down for myself.
This year, Pratt took home the Generation Award that was presented to him by his former co-star and television wife Aubrey Plaza, along with his current Jurassic World co-star Bryce Dallas Howard (hello, how adorable is that?) Pratt was there to accept the award and dedicated his speech to his son, Jack and the next generation. He started,
Special mention to my son Jack who will watch this someday. Kid, I love you. I love you more than anything in this world.
Pratt then did a very noble thing and dolled out some handy advice for the next generation — specifically, nine rules, some of which could definitely be helpful to the younger generation that's growing up right now. And then, others were just classic Pratt, and you gotta love him for it. I know I sure do.
Here are the "Nine Rules From Chris Pratt:"
1. Breathe, if you don't you'll suffocate.
2. You have a soul, be careful with it.
3. Don't be a turd. If you're strong, be a protector, and if you're smart be humble influencer. Strength and intelligence can be weapons, don't weild them against the weak. That makes you a bully.
4. When giving a dog medicine, put the medicine in a little piece of hamburger. They won't even know they're eating medicine.
5. Doesn't matter what it is, earn it. A good deed? Reach out to someone in pain, be of service. It feels good and it's good for your soul.
6. God is real. God loves you. God wants the best for you. Believe that, I do.
7. If you have to poop at a party, but you're embarrassed, just do what I do: lock the door, sit down, get all the pee out first, then once all the pee's out, poop flush. Boom. You minimize the amount of time the poop is touching the air, because if you poop first it takes you longer to pee, and then you're peeing on top of it, stirring it up. Then the poop particles create a cloud that goes out, and then everyone in the party will know that you pooped. Just trust me.
8. Learn to pray. It's easy, and it's so good for your soul.
9. Nobody is perfect. People are going to tell you you're perfect just the way you are, you're not. You are imperfect. You always will be. But, there is a powerful force that made you that way, and if you're willing to accept that, you will have grace. Grace is a gift. And like the freedom that we enjoy, grace was paid for by somebody else's blood. Do not forget it. Don't take it for granted.
Honestly, I hope the youths were paying attention (especially to that first one) and jotted it down in Notes, or whatever fancy thing the kids are using these days.
If anyone deserved to take home an award for their contribution to both film and TV, it's Pratt. I've been in love with him since he was goofy-but-loveable Andy Dwyer on Parks and Recreation. Despite how talented and entertaining he was on the NBC hit, I don't think anyone imagined that he would turn into this major movie star.
Recently, Pratt starred in the record-breaking Avengers: Infinity War, but the hit that put him there — and made him part of the Marvel cinematic universe — was Guardians of the Galaxy. Including the Guardians series, he currently is working in three major franchises, including Jurassic World and the Lego Movie.
Coming off Avengers: Infinity War, which premiered in April, This is going to be another big month for Pratt. He'll be back as Owen Grady in Jurassic World: Fallen Kingdom, which hits theaters June 22.
The Generation Award is kind of a big deal: for one thing, the celebrities who've won it before him are pretty iconic. Pratt will be joining Will Smith, Reese Witherspoon, Jim Carrey, Tom Cruise, Jamie Foxx, and Sandra Bullock. All of those are household names with impressive resumes and legacies.
From Pawnee to the silver screen, who would have thought?
The last time Pratt took home a MTV Movie & TV award was in 2016, for best action performance for Jurassic World. Still getting over the fact that he went from comedy start to full-on action hero, Pratt dedicated his award to all the action heroes that came before him. You know how winners get up there and go through a rundown of all the people in their lives plus everyone who worked on the project they won for? Well Pratt rambled off a list of action stars from Arnold Schwarzenegger to Sigourney Weaver to Dwayne "The Rock" Johnson. At the very end he also threw in a really sweet and funny thanks to his now ex-wife Anna Faris. "Our son was destined to be tough," said Pratt. "But thanks to you he's gonna be smart too."
You can watch that speech below:
Is it me or does he just always look like Star-Lord? I mean, I'm not complaining, just putting it out to the group.
Pratt's stardom seemed to come out of nowhere, but I'm so happy it did. Of course this probably mean that there's no hope for a Mouse Rat reunion (where would he find the time), even if he says he's down. At the Los Angeles premiere of Jurassic World: Fallen Kingdom on June 13, Pratt told E! News that if he was around (but like, again, where would he find the time) he'd be down for a Parks and Recreation reboot. Pratt said,
As long as I'm in town, yeah, I'll do it. It films like 10 minutes from my house so that would be dope. I miss Andy too. I would love it. I know I would do it.
How convenient.
I would love to see the gang return to Pawnee and see how they're all holding up, so someone should really start getting this reboot together now before Pratt decides to sign onto yet another major movie franchise. So like, try to get it done by the end of the week, or else the opportunity might be lost for good, just like Lil' Sebastian.