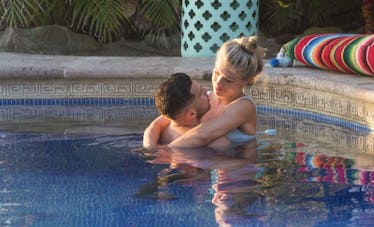 Chris & Krystal's Engagement On 'Bachelor In Paradise' Was Honestly Goals
ABC
Chris and Krystal's romantic journey on Bachelor in Paradise hasn't exactly been the smoothest ride. Both enjoyed short-lived romantic explorations with other people in paradise before finally settling in for the duration with each other. From then on, it was smooth sailing (because Chris is such a smooth talker) and now the two are happily engaged. Fans learned of Chris and Krystal's engagement on the Sept. 11 episode of Bachelor in Paradise and they're just over the moon for the couple.
The proposal itself was absolutely gorgeous, full of intrigue, love, and romance. And the way it all unfolded basically had Bachelor Nation swooning over Chris and his incredibly romantic ways. He treated Krystal like a literal princess and made sure she knew for certain how much she meant to him.
Chris was waiting for Krystal on the beach and Krystal was already in tears by the time she made her way over to him. But there was really nothing to worry about since Chris was all about love and devotion.
"Ever since I came to this beach, I did not know what to expect. And it wasn't smooth sailing early on and to be honest, there was a moment I wanted to give up a few weeks ago. But you came to me and I listened," Chris said to Krystal. "Honestly Krystal, you changed my life and you changed me. You made me a better man, but I have to be honest with myself and I have to be honest with you. I'm so sorry, Krystal, but it would be unfair to the both of us if I left here holding your hand because I want to leave here holding your heart. And i want to be here today, tomorrow and forever ... you're the woman I wan to be with."
Chris definitely let his inner smooth talker out for this proposal. The whole thing was pretty sly, but so worth it in the end for them both!
Naturally, fans of the show needed to release their inner fan girls and express just how amazing the proposal was. A slew of people took to Twitter to show their genuine love and awe for this couple and their story has unfolded so far on the show.
As you can see, Bachelor in Paradise fans have quite literally gone wild over this engagement. And for good reason, too.
While Chris may have often seemed like a smooth talker (remember how he smooth talked Tia before making the moves on someone else?), he was totally devoted to Krystal right from the start of their relationship. He was basically all in from the moment he knew they were going to be an item and his dedication to her has definitely paid off. Now, he's got a wife-to-be and a fairytale proposal to boast about.
As for Krystal, she was ecstatic about leaving paradise with a guy by her side. That's what she came for, after all. So, both she and Chris left paradise having fulfilled their romantic goals, which is amazing.