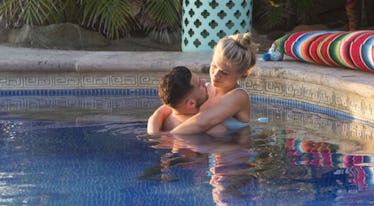 Chris & Krystal's Body Language On 'BIP' Says A Lot About Their Future Together
ABC
Alright, Bachelor In Paradise fans, let's talk about the one couple that's come out of seemingly nowhere and made everyone turn their heads to the side and say "Um, what?" Yes, I'm talking about Chris Randone and Krystal Nielson. The two "villains" from their own respective seasons of The Bachelorette and The Bachelor ended up getting together on the summer drunk-fest show, and actually seem to be genuinely in love. So, what does Chris & Krystal's body language on Bachelor In Paradise actually mean? Well, according to a body language expert, the two might actually be each other's end game.
Before we dive into this couple's body language, I have to warn you that there are rumored spoilers ahead for the season finale of Bachelor In Paradise. I repeat, do not continue reading if you don't want to know what happens at the end of the season.
OK, still here? Now, according to the expertise of Reality Steve, Chris and Krystal get engaged at the end of Paradise. Yes, these two allegedly end up wanting to be together forever, and strange as it may seem, their body language actually indicates that they have lasting power. Here's what body language expert and author of Persuasion Point Traci Brown has to say.