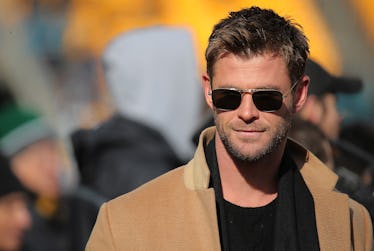 Chris Hemsworth Is Teaming Up With The 'Avengers' Directors, But Not To Play Thor
Brett Carlsen/Getty Images Sport/Getty Images
Netflix went into the beginning of 2018 with plans to spend upwards of $8 billion on original content, along with fleshing out their international selection of shows to draw in a more diverse audience. Word recently spread the streaming service will be spending even more than initially thought by the time the year is all said and done, with estimates as high as $13 billion, with content rolling out over the next couple of years. Their newest acquisition also leans into the international slot, as Chris Hemsworth will star in Dhaka, which they closed the deal on this week.
But this isn't just a matter of Netflix leaning on one of the Chrises, or a soon-to-be-former Marvel superhero to help fill the gap when Thor: Ragnarok reverts to Disney and their new streaming service in a couple of years. The film is produced by AGBO Studios, the brand new joint from Joe and Anthony Russo, the brains behind Captain America: Winter Soldier, Captain America: Civil War, and this past spring's $2 billion blockbuster hit Avengers: Infinity War.
AGBO made a bunch of big moves recently, winning the battle for the rights to adapt the Nico Walker novel Cherry, as well as snatching up action film Everything Everywhere All At Once, which is in talks to star Awkwafina and Michelle Yeoh from Crazy Rich Asians. But Dhaka is their first big deal with Netflix, and if it goes well, it could prove a great match.
But if this wasn't enough, the Russos are planning to keep Dhaka an in-house job with fellow Marvel compatriots. The director of the film is Sam Hargrave. This is Hargrave's first feature film, but it's not like he doesn't know the players. He actually came up in the Marvel system, starting out as Evan's stunt double in the early Captain America films, and then moving up to fight and stunt coordinator by the time they filmed Captain America: Civil War, and then onto second unit directing for Infinity War. Now the Russos are handing him the reins.
The movie's synopsis, according to Deadline:
Dhaka is an action film in which Hemsworth has to liberate a kidnapped Indian boy who is being hidden in Dhaka. Physically brave but an emotional coward, the man has to come to terms with his identity and sense of self.
But this is not the only Avengers reunion the Russos have up their sleeve. As Deadline reports:
They also this summer... teamed with Black Panther star Chadwick Boseman and STX on the thriller 17 Bridges that got a strong rewrite of the Adam Mervis script by Matthew Carnahan and starts production in three weeks. This to go with an arsenal of projects that includes Andy & Barbara Muscietti — the team behind the monster Stephen King hit It and its evil clown-encrusted sequel — to turn the Simon Stålenhag scifi novel The Electric Slate into a potential tent pole feature.
The Russo brothers are moving and shaking behind the scenes. Does this mean they will not be returning to direct at all for Marvel's Phase IV? If they don't, I don't think anyone would blame them.