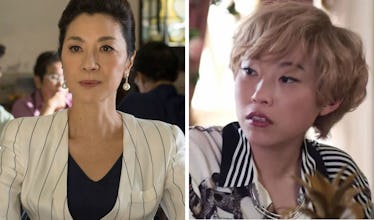 These 2 'Crazy Rich Asians' Stars May Be Reuniting For Another Huge Film
Warner Brothers
Crazy Rich Asians is bearing down on a third No. 1 weekend at the box office. Before the film came out, there was talk if it failed it would be another quarter century until Hollywood tried a movie starring an all-Asian and Asian-American cast. But if the film succeeded, there would be a diversity boom in Hollywood, allowing projects once unthinkable to be made with no problem. With the film surpassing all expectations, the boom seems to be here, with talk of Michelle Yeoh and Awkwafina in Everything Everywhere All At Once.
They are not the only ones, either. Earlier this week, Netflix, which lost out on producing Crazy Rich Asians, announced to The Hollywood Reporter they had convinced director Jon M. Chu to come aboard and helm a new comedy special starring Ken Jeong, who plays Goh Wye Mun in the film. Under the working title of Ken Jeong: First Date, this will be the comedian's first stand-up special since he first hit the big time in 2009's The Hangover.
But where that is a one-man stand-up comedy special, the film Yeoh and Awkwafina (real name Nora Lum) are circling, Everything Everywhere All At Once, could be a Hollywood action blockbuster.
The movie isn't based on a preexisting property, but the brainchild of Dan Kwan and Daniel Scheinert, who are known as "The Daniels" in Hollywood. Their last major film was Swiss Army Man, which starred Daniel Radcliffe as a very un-Harry Potter-like farting corpse and Paul Dano as the madman who loves him.
Everything Everywhere All At Once is described as "an inter-dimensional action film," but there aren't too many more details. Either way, with the Daniels behind it, it's certainly not going to be a run of the mill action flick.
Deadline reports the film is being financed by the AGBO Studios, which is run by Infinity War directors Joe and Anthony Russo.
Their very first major deal was to buy the next film by the directing team known as The Daniels — Dan Kwan & Daniel Scheinert — after seeing their offbeat directing debut Swiss Army Man. That project, an inter-dimension action film, now has a title, Everything Everywhere All At Once, with talks underway with Awkwafina and Michelle Yeoh, both coming off the hit Crazy Rich Asians, for a spring start.
Meanwhile, Crazy Rich Asians isn't done yet. The film is sitting at a total gross of $83 million heading into Friday's four-day weekend, and with little competition, it is expected to continue its Cinderella story both on screen and in the profit margins. According to The Hollywood Reporter:
The Jon M. Chu-directed rom-com is projected to earn another $24 million for the four-day holiday, the third-best Labor Day gross... By the time Labor Day wraps, Crazy Rich Asians could also pass Girls Trip ($115 million) to become the most successful live-action comedy in two years, and the most successful rom-com in a long stretch.
Meanwhile, Crazy Rich Asians 2 is already being put into pre-production for a sequel. Hopefully, a release date will come in 2020.