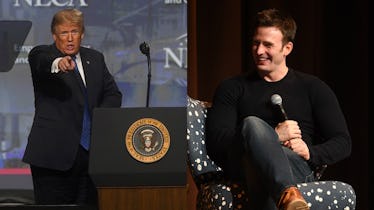 Chris Evans Called Out Donald Trump For Mocking Christine Blasey Ford In An Intense Tweet
Mark Makela/Getty Images News/Getty Images; Paras Griffin/Getty Images Entertainment/Getty Images
Even though President Trump originally called Christine Blasey Ford — who has accused his Supreme Court nominee Brett Kavanaugh of sexual assault, which he denies — a "very credible witness," he later mocked her during a Mississippi campaign rally on Oct. 2, and Chris Evans' reaction to Donald Trump mocking Christine Blasey Ford is the on-point condemnation we all needed.
"How did you get home? I don't remember," Trump said during the rally, ridiculing Ford's inability to recall certain details about her alleged experience during her testimony before the Senate Judiciary Committee on Sept. 27. "How did you get there? I don't remember. Where is the place? I don't remember. How many years ago was it? I don't know." Elite Daily reached out to the White House for comment on Trump's statement but did not hear back by the time of publication. But Twitter users did not hold back their feelings about Trump's comments, calling them totally out of line — and Chris Evans was one of them.
On Tuesday, Oct. 2, Evans proved he was a real-life Captain America when he took to Twitter to express his outrage and put Trump on blast for victim-shaming Ford. "Are you kidding me?" he tweeted. "Are you kidding me with this? What is the purpose of this? Was there no other vitriol you could spew to rile up your base and deepen this country's divide? You used THIS?? Do you even understand the message you're sending? Where is your sense of human decency?" Where, indeed! Elite Daily reached out to the White House and to Evans' team for comment, but did not hear back in time for publication.
Meanwhile, it didn't take long after Evans posted his tweet for the good people of Twitter to roll up and show their support for the actor.
Of course, this isn't the first time Evans has called someone out on Twitter. In fact, it was only a few days ago, on Sept. 30, when he criticized Kanye West for his pro-Trump, anti-13th Amendment tweet, which featured a picture of the rapper wearing one of the President's "Make America Great Again" hats, which confused a lot of people since the 13th Amendment abolished slavery.
OK, so here is Kanye's tweet:
"This represents good and America becoming whole again," he wrote. "We will no longer outsource to other countries. We build factories here in America and create jobs. We will provide jobs for all who are free from prisons as we abolish the 13th amendment. Message sent with love." Elite Daily reached out to West's team for comment on his tweet but did not hear back by the time of publication.
And here is Evans' response:
"There's nothing more maddening than debating someone who doesn't know history, doesn't read books, and frames their myopia as virtue," he replied. "The level of unapologetic conjecture I've encountered lately isn't just frustrating, it's retrogressive, unprecedented and absolutely terrifying." Elite Daily reached out to Evans and West's teams for comment on Evans' tweet but did not hear back by the time of publication.
Still, it's pretty obvious that the man who plays Captain America isn't happy with the man currently running America. And he has no problem hopping online every time Trump — or a Trump supporter — throws down the gauntlet.
Good thing he's got that shield.