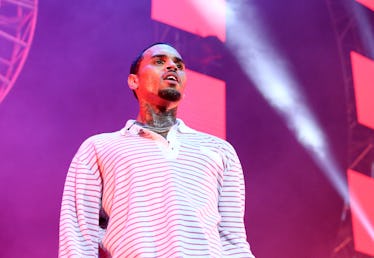 Chris Brown Was Arrested For Alleged Felony Assault After His Concert In Florida & Wow
Ser Baffo/Getty Images Entertainment/Getty Images
Chris Brown is currently on his Heartbreak on a Full Moon Tour, which is set to continue through Aug. 4. Last night, he performed a show at the Coral Sky Amphitheatre in West Palm Beach, Florida. Little did he know that officers were reportedly waiting for the rapper to finish his set so they could take him to jail. That's right, Chris Brown was arrested on a felony battery charge, according to reports, and booked into Palm Beach County Jail on July 5, according to CNN. He was reportedly released about an hour later after posting bail. Elite Daily reached out to Brown's team for comment on the report, but did not hear back by the time of publication.
According to the Palm Beach Post, the charge stems from a reported April 2017 incident at Tampa club AJA Channelside, in which Brown allegedly punched club photographer Bennie Vines for taking photos of him. The photographer reportedly suffered a split lip as a result of the punch, and later went to the hospital and pressed charges against the singer.
"Incidents like the ones caused by Chris Brown and his team are very sad to see," the club claimed in a statement on Facebook at the time. "As everyone witnessed he showed up to the club at around 1:30am. After only a few minutes of being there, Chris Brown himself and his team assaulted our club photographer and proceeded to walk out of the venue. Assault charges were pressed and we are dealing with the proper authorities accordingly."
The warrant was a "Florida pick-up only" — which means only Florida authorities could arrest Brown — which is why they were able to execute his arrest warrant when he arrived in West Palm Beach.
This, of course, is not Brown's first run-in with the law. In 2016, he was arrested on a charge of assault with a deadly weapon after he allegedly threatened a woman with a gun during an argument about jewelry. In 2013, Brown and his bodyguard were arrested and charged with felony assault after an alleged altercation outside a hotel in Washington, DC. The charge was reduced to a misdemeanor, and Brown was released from jail without bail. But then later that year, the rapper was reportedly kicked out of rehab after allegedly breaking his mother's car window during a family session. A judge ordered him to enter into another rehab program ASAP.
And who could forget the 2009 incident with his then-girlfriend, Rihanna? Brown was arrested in February 2009 for allegedly punching Rihanna inside a rented Lamborghini and injuring her face. He pleaded guilty to the charge seven months later, and a judge ordered him to spend five years on probation, to do 1,400 hours of community service, and to go through domestic violence counseling.
So yeah, Brown's fans on Twitter aren't really surprised that the singer is reportedly in trouble with the law again.
Meanwhile, Brown is scheduled to return to the stage for another show on as part of his Heartbreak On A Full Moon Tour on Friday, July 6 at the MidFlorida Credit Union Amphitheatre in Tampa, Florida, of all places. According to TampaBay.com, an Amphitheatre spokeswoman confirmed that Brown will perform as scheduled. And Brown confirmed the appearance is still a go on his official Instagram page, as well, with a post that went up a few hours after his West Palm Beach arrest.
"What's NEW🙄?????" he wrote in the caption, and please note his use of the eye roll emoji. "Show tomorrow!!!!"
The show must go on, I guess.