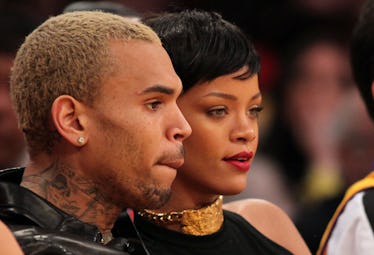 These Details About Chris Brown & Rihanna's Current Relationship Status Might Shock You
Victor Decolongon/Getty Images Sport/Getty Images
Wow, life is complicated. Music fans were surprised when Chris Brown wished his ex Rihanna a happy 30th birthday on Feb. 20. It's been nearly a decade since their terrible split in 2009, and fans have assumed both parties went their separate ways after the fallout was over. However, Chris Brown and Rihanna's current relationship status might totally shock you, especially if you didn't know they were still communicating at all.
Many years ago, Brown and Rihanna were one of the public's favorite celebrity couples. However, in 2009, horrible news broke that Chris Brown was charged with assaulting Rihanna in his vehicle on the night of a Grammys party. He ended up pleading guilty "one count of assault with the intent of doing great bodily injury" and was charged with one count of assault. According to CNN, Brown was served 5 years probation, 180 days in jail (or the equivalent), 1,400 hours of "labor-oriented" services, and was required to attend a year-long domestic violence counseling class. Initially, he was also given a restraining order, but Rihanna later had that removed.
In 2015, Rihanna told Vanity Fair that she thought she could change him. She said at the time she was "very protective of him" and "felt that people didn't understand him." Eventually, they called it quits for good. She said,
If you put up with it, maybe you are agreeing that you [deserve] this, and that's when I finally had to say, 'Uh-oh, I was stupid thinking I was built for this.' Sometimes you just have to walk away.
So, you can imagine fans' surprise when Brown posted his birthday message. He shared a baby photo of Rihanna with the message, "HAPPY BIRTHDAY @badgalriri." Obviously, fans were confused.
Now, new sources are saying the two actually talk, like, a lot. Is it possible they could have remained friends after all of this time?
An insider told US Weekly,
Fans might have been surprised that Chris wished Rihanna a happy birthday so very publicly on social media. However, they are good friends and talk all the time.
After the assault charge, Brown filmed and shared an apology video on YouTube. It ran about two minutes long, and Brown stared directly into the camera the whole time. He said,
I felt it was time you heard directly from me that I am sorry. I have tried to live my life in a way that would make those around me proud of me, and until recently, I think I was doing a pretty good job. I wish I had the chance to live those few moments again, but unfortunately, I can't.
I cannot go into what happened, and most importantly, I'm not going to sit here and make any excuses. I take great pride in me being able to exercise self-control and what I did was inexcusable. I am very sad and very ashamed of what I've done.
My mother and my spiritual teachers have taught me way better than that. I have told Rihanna countless times, and I'm telling you today that I am truly, truly sorry, and I wasn't able to handle the situation both differently and better.
Fans have urged Brown to take his birthday post down, suggesting it's insensitive and bizarre, but the singer has yet to remove it from his Instagram feed. There's also no comment or response for Rihanna at this time, but she also hasn't commented on birthday wishes from other celebrities and friends, either.
Wherever you are, Rihanna, I'm thinking about you, and I hope you had the best birthday celebration in the world. HBD, queen!