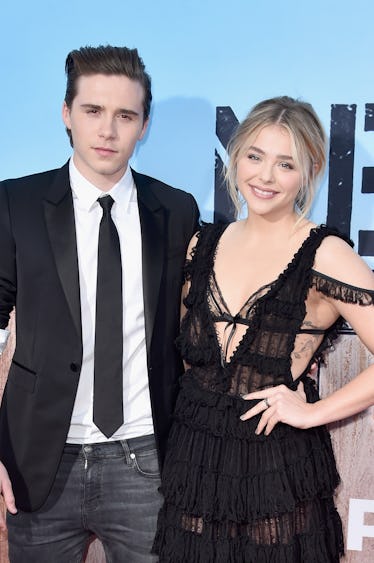 Everything Chloë Grace Moretz & Brooklyn Beckham Said About Each Other Before They Split
Alberto E. Rodriguez/Getty Images Entertainment/Getty Images
Let's go back, back to the beginning. The year is 2014. Brooklyn Beckham and Chloë Grace Moretz are young, gorgeous little celebrities running around and falling in love. Flash forward four years and there is definitely trouble in paradise. Moretz and Beckham appear to be officially broken up after years of on-again, off-again dating. Moretz recently talked about the difficulties of dating as a celebrity with The Sunday Times, which fans are taking as confirmation that she and Beckham are totally kaput. Still, Chloe Grace Moretz and Brooklyn Beckham's quotes about each other before their split linger on social media and in fans' minds, leaving some shippers out there pining for a reunion. Of course, Moretz has more epic soundbites and interviews thanks to her status as a celebrity actress, but Beckham definitely comes in swinging with sweet Instagram posts about her from the past.
Moretz's Coy Confirmation
Moretz first confirmed their relationship on Watch What Happens Live in September 2014 when a viewer called in and asked about her relationship status with Beckham. She dodged the question claiming she didn't want to "put a label on it," but the video still stands as one of the first exhibits of relationship proof. After that, Beckham and Moretz went on to leave a breadcrumb trail of Instagram pics and heart filled emoji captions for the next few years.
Moretz Admired Beckham's Drive
One month after her WWHL appearance, Moretz told Teen Vogue she really admired Beckham for his drive and passion towards the things he cared about. She said, "What I find really interesting about Brooklyn – and what I really love about that kid – is that he is passionate about what he wants, which is to be a professional soccer player."
Things went fairly quiet after that until 2016 when Beckham confirmed their relationship by posting a sweet, intimate photo on his Instagram account.
Moretz's REAL Confirmation
That year, Moretz returned to Watch What Happens Live where she confessed she was seeing Beckham. She said, "We're in a relationship. It's fine. It's no biggie." She also told James Corden on The Late Late Show Beckham is a "sweetie" and a "cutie." I personally would not love it if that's how my significant other talked about me on TV, but then again, I'm not Brooklyn Beckham. (To be fair, he does look like a real sweetie and cutie.)
Moretz Loved Beckham's Appreciation For Strong Women
In June 2016, Moretz talked to Access Hollywood at a Hillary Clinton fundraiser and mused on Beckham's relationships with women. She said,
I think [Brooklyn is] used to powerful women in his life. I mean, his mom [Victoria Beckham] is a very powerful woman. I think he admires kind of what I stand for and he's always like, 'Go do your political thing, Chloë.'
Beckham Got Gushy On Instagram
After yet another few months of playing Ross and Rachel (as I like to call it), Beckham shared a variety of sweet posts on Instagram. In one, it appears Moretz's feet are strewn across his lap. He captioned that image, "These nights are my favourite. Missing my girl." In another, Beckham snapped a pic of their matching shoes captioning that photo, "luckiest person on earth."
Alas, nothing gold can stay.
Based on her interview with The Sunday Times, it sounds like the pressures of functioning in a publicized relationship ended up getting the better of this sweet couple. "It's nearly impossible to date someone who has no real basis in this industry, because it's a shocking industry," she said. "There are a lot of things that happen that are hard to explain."
Moretz also said she learned one of the key things in order to nurture a relationship is "to keep things quiet." She said,
It's been a very big learning curve, and that was hard. I had a lot of moments when I was, like, 'Why can't I just say this? Why can't I be with this person in the street and not get photographed?' And there's no real answer to that other than you just can't. That's my life, but hopefully, I'm going to try and control every ounce of it that gets out.
Sigh.
Fortunately, these two have their whole lives ahead of them to find new and exciting love again. If history does repeat itself, it won't be long before fans see their matching heart emojis sneaking out again on Instagram.