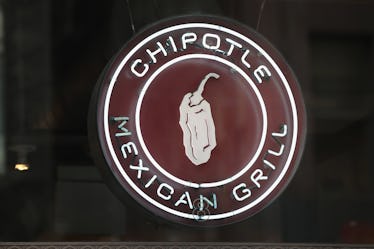 Chipotle Is Finally Opening More Drive-Thru Windows To Make Burritos Even More Convenient
Scott Olson/Getty Images News/Getty Images
Chipotle is continuing to simplify life for all of us by adding more mobile drive-thru pick-up lanes to locations nationwide. Now, you can order up all of the tacos, burritos, and bowls without having to ever step foot inside. So easy, right? However, you won't be able to hop in line and place your order with the person in the box like you would at a traditional drive-thru. But you will be able to pick up an order that you have already placed. CNBC reports that Chipotle is opening drive-thru windows in more states for mobile ordering, so BRB while I place my lunch order.
The fast casual Mexican food restaurant allows customers to place their order via the Chipotle app, which is available for download on iOS and Android devices, or by using their online order form. Now, Chipotle customers can get their fix without ever stepping foot inside of the store. Talk about convenience. Once a customer has placed their order, Chipotle will provide them with a time to pick up their food order from one of the drive-thru lanes.
Of course, as I mentioned, this concept isn't new. You may remember last summer when the Mexican grill opened up its first test spot at a location in Ohio. Apparently, it must have gone well. Since then, Chipotle added a second mobile pick up window in Ohio, and expanded the concept to its stores in Tennessee, Texas, and Massachusetts. Currently, there are five total drive-thru locations nationwide, according to CNBC.
Chipotle is continuing the expansion of drive-thru pick-up windows to additional locations across the country. Although, it is unclear how quickly mobile drive-thru lanes will be added to other stores. Curt Garner, chief digital and information officer at Chipotle, told CNBC that mobile and online orders made up 8.8 percent of the restaurant's sales last quarter, up 40 percent from last year. If things continue trending in that direction, I hope we can expect to see Chipotle roll out these drive-thru lanes sooner rather than later. Thankfully, there is one on the horizon. A mobile drive-thru widow will debut at a Chipotle store in Virginia later this year, according to CNBC.
"As we are looking at our real estate pipeline, part of the criteria that has been introduced is to understand how many of those sites might lend themselves to that experience, even if we don't open them immediately with [the mobile lane] enabled," Garner told CNBC.
Garner also said that mobile and online orders usually take about 12 minutes to fill when placed on the spot. That should be plenty of time for you to leave work or home and make your way to Chipotle to pick up your burrito bowl.
No longer do you have to scope out a spot in the parking lot or stand in line waiting to order — because if you've ever stood in line at Chipotle during a peak meal time, you know it can be pretty overwhelming. Honestly, even when it's not prime lunch or dinnertime, the line is usually packed with customers. (That's just a testament to how delicious Chipotle is, because everyone needs a little guac in their life.) In my experience, the long line of customers frequently snakes around the black barricades set up inside. So, hopefully the addition of more mobile drive-thru pick-up windows will help cut back on the number of customers inside of the restaurant.
More and more eateries are moving toward this kind of service. Dunkin' Donuts recently opened up a mobile pick-up lane at a store in Massachusetts. The future is here, my friends. And if the future involves burrito bowls and guac without ever leaving my car, then I'm all for it.