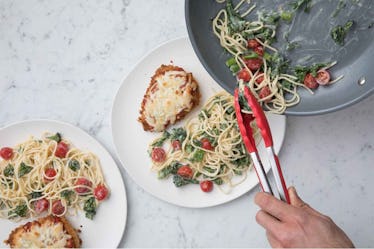 Chick-fil-A Is Testing Meal Prep Kits, So I'm About To Become A Professional Chef
Let's face it: Cooking is hard. It takes time, effort, and skill to make a delicious dinner — and sometimes, there's not enough time in a day to prepare the meal you want. That's why I resort to a nice bowl of cereal at the end of the night when I'm too tired to cook (don't judge me). If you can relate — and are sick of cereal for dinner — you'll be happy to know that Chick-fil-A's Mealtime Kits are being tested. The Mealtime Kits will give you everything you need to make a delectable dinner from the comfort of your own kitchen.
Chick-fil-A announced their upcoming Mealtime Kits in a press release on July 23, and they sound super convenient. The kits are essentially meal prep packages that contain pre-cut, fresh ingredients for select recipes that customers can make at home. While they're being tested, the kits can be picked up at Chick-fil-A's front counter or drive-thru. Tech-savvy customers can even order their kit via the company's mobile app.
Before you ditch your dinner plans and grab your car keys, there's one thing you should keep in mind. Only those who live in Atlanta, Georgia (the city where Chick-fil-A originated) will have the opportunity to test the meal prep kits from Aug. 27 to Nov. 17, per the company's press release. But if you don't live in Atlanta, don't get discouraged. Chick-fil-A-loving customers nationwide will have the opportunity to show their interest in Mealtime Kits by filling out this online form.
By expressing your interest in the kits, you might help Chick-fil-A bring them to your hometown.
Those of you lucky enough to live in (or visit) Atlanta between August and November will have the chance to try five Mealtime Kits at $15.89 each. The choices will include Chicken Enchiladas, Chicken Parmesan, Pan Roasted Chicken, Dijon Chicken, and Chicken Flatbread (they sound delicious, I know). If you're bad at making decisions, rest assured that the company will only be offering two options at a time. This way, you'll be able to take each Mealtime Kit home at your own pace (and not worry about missing out on a certain recipe).
Michael Patrick, an innovation program lead at Chick-fil-A, talked about the meal kits in a press release. He said, "We know our guests are busier than ever and need a variety of convenient dinner options. We're excited to offer Mealtime Kits as a new way for us to serve our guests by providing fresh ingredients to enjoy a delicious meal at home."
Patrick continued,
We designed our offering so our guests don't have to order ahead, subscribe to a service, or make an extra stop at the grocery store. They simply pick up a Mealtime Kit at one of our restaurants at their convenience – for example, when they're already at a Chick-fil-A restaurant grabbing breakfast or lunch, or in the drive-thru on their way home.
It looks like I'm about to become a professional chef, y'all.
If you're suddenly in the mood to cook, plan your August road trip to Atlanta — and don't forget to bring a friend. Each Mealtime Kit serves two people, and you'll want to share your homemade Chick-fil-A meal with your BFF.