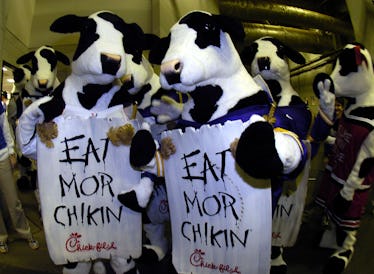 You Can Get Free Chick-fil-A Today If You Dress Up Like A Cow, So There's That
Al Messerschmidt/Getty Images Sport/Getty Images
Cow Appreciation Day is here, which is great news if you want to score some delicious freebies from America's favorite fast food chain on July 10. That's right: It's that time of year when Chick-fil-A gives away free chicken sandwiches to customers decked out in, um, bovine-inspired attire, and you only have one day to get in on the savings. Now's the time to dust off your cow costume, because that's how to get free Chick-fil-A on Cow Appreciation Day.
Tuesday, July 10 marks the fried chicken chain's 14th annual Cow Appreciation Day, which pays homage to their now-iconic "Eat More Chikin'" cows. According to a press release, customers who choose to show their spots can get their choice of almost any Chick-fil-A entrée, excluding salads and waffle fries, completely gratis. Meanwhile, kids decked out in the cow-wear of their choice will receive a free Kid's Meal. All you have to do is don your bovine threads, hoof it over to your nearest Chick-fil-A location between opening time and 7 p.m., and receive a complimentary entree. It's so easy to get in on your favorite breakfast, lunch, and dinner options, because why not have it all?
Now, you might be wondering, what exactly constitutes "cow-wear"? After all, going in to work dressed a full-out cow costume isn't really worth a free sandwich, even if it's a crispy breaded beauty from Chick-fil-A. Luckily, I checked out the fine print, and it looks like you don't have to wear head-to-toe spots to score a free entree after all.
The press release specifies that "any type of cow attire" will be accepted, and a look back at last year's Instagram posts shows that people were definitely trying to get creative with it without subjecting themselves to too much embarrassment.
2017's go-to item of choice seemed to be a spotted shirt, but some customers made things even simpler by wearing a cow mask. That's something you can easily whip out at Chick-fil-A, then stuff back into your purse before you head back into the office. One woman even got a bovine-patterned manicure, which is a pretty cute and subtle option. If you're looking for inspiration, Chick-fil-A recommends checking out www.CowAppreciationDay.com for fun ways to pay homage to cows with your costume as well as a full list of menu items that are free on July 10. Just keep in mind that an employee will be assessing if your ensemble fits the cow criteria, so no online or mobile orders qualify for the special deal.
"Every year, we're thrilled with the number of customers who come out and celebrate Cow Appreciation Day with us," Jon Bridges, Chick-fil-A's senior vice president and chief marketing officer, said in the press release. According to the company, 1.8 million complimentary entrees were given to cow-attired customers last year, and the number is expected to grow even more in 2018. That's a lot of nuggets!
The chain recommends that bovine enthusiasts document their costumes on Instagram or Twitter via the hashtag #CowAppreciationDay, because did it even happen if it's not on social media? In addition, select locations will offer a Cow Appreciation Day Snapchat filter if you really want to get your moo-ves on (sorry).
Considering that Chick-fil-A continues to hold the title of the nation's favorite food destination in the American Customer Satisfaction Index's Restaurant Report for 2018, per USA Today, you'll definitely want to grab this opportunity by the horns. My recommendation? A Chicken Biscuit to start your morning off right, followed by 12-count nuggets and a Grilled Chicken Cool Wrap for lunch and dinner. Sure, you're going to need a nap ASAP, but Cow Appreciation Day only comes once a year. Make it count.