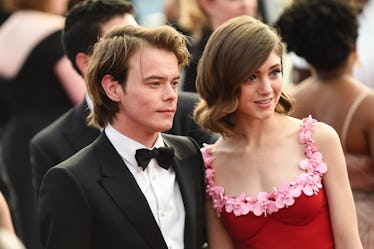 Charlie Heaton Posted The Sweetest Instagram Photo Of His 'Stranger Things' Costar & Fans Are Loving It
Emma McIntyre/Getty Images Entertainment/Getty Images
If the words Eleven, waffles, and Demogorgon are current mainstays in your vocabulary (guilty), then you are probably very much into all things Stranger Things. How can you not be, though? The show is super binge-worthy, and the actors themselves are just as interesting. Two of your series favorites getting together in real life is almost as exciting as the announcement of a new season. Well, there's good news on the love front thanks to a swoon-worthy Instagram post containing Charlie Heaton's birthday message to Natalia Dyer.
Now, it's not too surprising that Heaton, who portrays Jonathan Byers in Stranger Things, would share a romantic post for his presumed girlfriend's big day, but it is a big deal for fans of the show because these two have been a rumored couple for so long. In fact, it was only in December of 2017 that the two finally walked a red carpet hand-in-hand at the London Fashion awards. Fans could finally stop questioning whether this Stranger Things romance was just something they'd conjured up in The Upside Down.
The real-life couple is still pretty low-key — they haven't officially confirmed their relationship — so it was a welcome show of PDA when Heaton wished Dyer the sweetest of birthday wishes on Saturday, Jan. 13, according to Teen Vogue.
Heaton appears to play the role of boyfriend as genuinely as you'd hope. He sweetly captioned his Instagram post with:
Happy 21st birthday! ...I hope it's a great one and I'm stoked to be working on this new series with you. I think it's gonna be great. P.S. - Not feeling too well but I still wanna meet you at piedmont park tonight x
While the message is sweet, the photo he included of Dyer is also a cute tribute to the actress. She smiles as she's bundled up in a jacket, scarf, and yellow beanie holding a piece of what I presume to be her birthday cake. All in all, it's a pretty spot-on birthday post — and an adorable showing of their blossoming relationship.
In the post, Heaton mentions that he's "stoked to be working on this new series" with Dyer, but he doesn't elaborate on what exactly that is. So, there is a possibility that you might see your Stranger Things one true pairing acting together in a capacity other than Jonathon Byers and Nancy Wheeler (fingers crossed). While trying not to get sidetracked by the thought of another project with both Heaton and Dyer, fans seemed to zero-in on the relationship goals aspect of the post.
The comments pretty much proved that fans are here for this Heaton-Dyer relationship. It was called the "cutest thing ever" by one fan. Another fan found themselves really feeling the emotion, and they wrote, "Why am I crying? This is so cute."
If you were wondering what the couple actually did to celebrate Dyer's big day, Heaton gave a clue in his post that he would meet Dyer at Piedmont Park, which (after a quick Google search) I discovered is a park in Atlanta. Unfortunately, neither of them posted about what I presume (and hope) was the most perfect park picnic birthday ever, so I'll just go on assuming they lived out a real-life romantic comedy montage.
If their day was filled with as much love as the heart-eyed emojis that bombarded the comments of section of Heaton's Instagram post, then Dyer likely had a very special birthday. While I will never get mad at an adorable Instagram post between these two, I'm still keeping hope alive that maybe the next one will officially confirm this Stranger Things love connection.