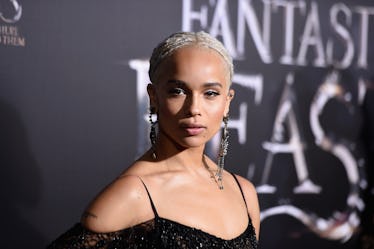 The Celebrity That Goes With Each Greek Goddess Is Scarily Accurate
Michael Loccisano/Getty Images Entertainment/Getty Images
Personally, I'm a big fan of mythology, and pretty much everything related to mysticism. I'm also a lover of all things pop culture, so in Carrie Bradshaw's words, I couldn't help but wonder, which celebrity goddesses have Greek mythology counterparts? TBH, I started thinking about this after watching the music video for Lauren Jauregui's latest single "More Than That," as she portrays a modern version of the Greek Goddess, Aphrodite. The aesthetics are totally dreamy with a dash of retro-neon vibes, and in true mythological fashion, Mount Olympus. I have to admit, Jauregui's vision most certainly came to life.
I also wanted to point out, the 22-year-old songstress mentioned exploring the goddess archetypes for her latest musical projects, during an Instagram live on Jan. 8, 2019, and I can definitely see the correlation. For instance, the goddess Aphrodite is known for her beauty and alluring sensuality, right? Well, the lyric, "I know I ain't right for tempting you, but I just wanna see what you would do," truly goes hand-in-hand with Aphrodite's coquettish ways. On another note, Jauregui also mentioned channeling the goddess Lilith, a symbol of raw femininity, for her last single "Expectations," which makes sense, considering it's a lot more risqué.
That's not to say that "More Than That's" strip club scene isn't just as raw. However, when speaking to BBC, Jauregui said, "They're stripping, but each woman's spirit is captured in a way that's revering her strength and her sensuality." What can I say? I totally dig it. Then again, I'm also a firm believer that all women are goddesses in their own way, which is why I'm so fixated on this topic to begin with. However, the gorgeous Lauren Jauregui, and her latest artworks, most definitely inspired me, so kudos to her. Besides, life imitates art, right?
Nevertheless, here go my thoughts on which celebrities should portray whom. Also, don't judge me!
Aphrodite: Iskra Lawrence
IDK about you, but I am living for Iskra Lawrence's Instagram posts. Aside from the fact that she is a total bombshell, the 28-year-old model really knows how to celebrate her voluptuous curves, and I personally find that so inspiring. Self-love is everything, and so is her natural beauty. Speaking of, Aphrodite is the goddess of love, beauty, sexual pleasure, and fertility, as per Greek mythology. Need I say more?
Artemis: Zoë Kravitz
There's honestly something so mystical and pure about Zoë Kravitz. In fact, I'm literally putting this out into the universe right now. (Praying she gets cast for the role of a moon goddess.) Speaking of, as per Greek mythology, Artemis is the Olympian goddess of the hunt, moon, and chastity. She is universally portrayed as a beautiful huntress carrying a quiver with arrows, or a moon goddess wearing a long robe, and crescent-moon crown.
Athena: Emma Watson
Athena is known for her strength and wisdom, and well... IDK about you, but Emma Watson exudes that and more! According to Greek mythology, Athena is the Olympian goddess of wisdom and war. It is said that she is depicted by a stern yet majestic woman, who emanates authority and power. Coincidentally, Watson was born under the warrior-like sign of Aries.
Lilith: Megan Fox
The goddess Lilith is a symbol of raw womanhood, and the act of reclaiming parts of a woman that are vital for survival, aka sex and power. Come to think of it, our girl Megan Fox already portrayed the goddess Lilith in the 2009 fantasy horror film Jennifer's Body, despite embodying her raw femininity in her everyday life, of course. Also, in 2008, Fox was named the world's sexiest woman, as per Reuters.
Iris: Camila Cabello
According to Greek mythology, Iris was the goddess of the rainbow, as well as a divine messenger to the gods. TBH, this instantly reminded me of Camila Cabello, because there's something so magical and colorful about her energy. Then again, she is a Pisces after all! Similar to Hermes, (Mercury) Iris served as a link between the gods and the mortals, and well... Cabello is already ethereal-like, so it suits her perfectly.
Persephone: Kylie Jenner
Aside from Kylie Jenner's mysterious lure (natal Scorpio moon) and smoldering sex appeal, I couldn't help but notice her obsession with Pomegranate seeds, which also happens to be the same fruit Hades gives Persephone to hold her captive. In case you're wondering, Persephone is the goddess of vegetation, and the wife of Hades, with whom she rules the Underworld, as per Ancient.eu.