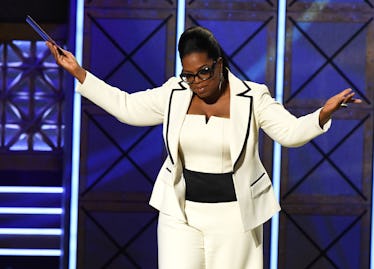 Celebrities Keep Getting Distracted By Oprah At The Golden Globes & It's Hilarious
Kevin Winter/Getty Images Entertainment/Getty Images
The Golden Globes is basically a room full of incredibly talented and beautiful celebrities, so it's pretty amazing when the people you THINK are super famous get really excited about celebs who are more famous than them. It's just so enlightening to know that there is like, some weird hierarchy of famous-ness (when, in reality, if I saw ANYONE attending the Golden Globes on the street, they'd be on an equal playing field of celeb status). Case in point: Celebrities' reactions to Oprah at the Golden Globes are giving me LIFE, because DUH, it's Oprah!
Oprah, who is in the very front row, smack dab in the center, is basically acting as a beacon of light to anyone who hops on stage to accept an award. And let me tell you, the celebrities winning the awards at the Golden Globes are basically starstruck as soon as they reach the podium at the stage, seeing Oprah so close, you could almost reach out and hug her. It's brilliant. It's relatable. It is all of us.
As if Oprah wasn't incredible enough, she'll be accepting the 2018 Cecil B. DeMille Award, which is given "to a talented individual who has made an incredible impact on the world of entertainment." Girl. Yes!
The president of the Hollywood Foreign Press Association, Meher Tatna, spoke highly of Oprah (I mean, how could anyone not?), and said that she's been a "role model" for women throughout the years:
As a global media leader, philanthropist, producer and actress, she has created an unparalleled connection with people around the world, making her one of the most respected and admired figures today ... For generations, Oprah has celebrated strong female characters on and off screen, and has been a role model for women and young girls for decades.
And, according to the Golden Globes website, Winfrey spoke to the Hollywood Foreign Press Association about her fruitful career and the amazing empire that she's built. She said,
I don't know anything that is not fun. Well actually, it's a very simple life except lived on a very large scale. Now, it's about enjoying the view from this space and finding joy and great pleasure in this career that you have built. And just now choosing what you want to do, what fits in this particular moment, what feels like this is how I truly want to express myself now. And I do believe that every human being here is here on Earth to live up to the altruistic expression of themselves as a human being.
See? This is exactly why everyone flips the eff out when they see Oprah. Even very big celebrities like Seth Meyers, Sterling K. Brown, Rachel Brosnahan – who all essentially started their time on stage by dramatically waving to the queen, trying very hard to think of their speech after witnessing such a miraculous human right in front of them.
Fans were VERY quick to notice celebs shouting out Oprah when accepting their awards. Because it literally kept on happening.
Exhibit A: When Sterling K. Brown won Best Actor in a TV Drama:
Exhibit B: When Rachel Brosnahan won Best Actress in a TV Comedy:
And Seth Meyers, who is hosting the Golden Globes but that doesn't matter when OPRAH IS IN THE BUILDING:
But really, can this be a thing? Oprah Winfrey and Tom Hanks leading our nation would bring us to new levels of unity and patriotism.
People are now like, "This is a thing," and social media is eating it up:
So sure, you might have won a Golden Globe, but unless you're Oprah, you're decidedly not the most famous person in the room.