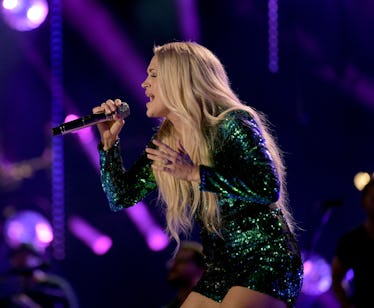 Carrie Underwood Snapped Her First Baby Bump Pic In The Most Fitting Place
Jason Kempin/Getty Images Entertainment/Getty Images
Just days after revealing that she has a baby on the way, Carrie Underwood is giving fans a first glimpse of her pregnant belly at the most fitting venue possible. Because she's the bonafide queen of country music, Carrie Underwood's first baby bump picture was at her Opry performance in Nashville, Tennessee. One thing's for certain: this mama-to-be isn't letting pregnancy slow down her star power.
On Friday, Aug. 10, Underwood brought her baby bump and her vocal prowess to the historic Grande Ole Opry stage in Music City, U.S.A. It was the "Before He Cheats" chart topper's first appearance since revealing that she and husband, former pro hockey star Mike Fisher, are expecting their second child, and she brought the house down with classic hits like "Jesus Take the Wheel" and "Yarn," according to Page Six.
While waiting in the wings backstage, Underwood introduced her unborn child to his or her country roots by documenting baby Underwood's very first experience with the famed venue. She snapped a picture of the silhouette of her burgeoning baby bump framed by her sparkly dress and the eager crowd, which she later posted to Instagram with the caption, "Opry" followed by three heart emojis.
In other words, this baby bump debut couldn't have been more "classic Carrie Underwood," and I love her for it.
Just days earlier on Wednesday, August 8, the singer first revealed that she has a baby on board with a surprise Twitter announcement while talking about her Cry Pretty Tour.
"You might be asking, 'Carrie, why is your tour starting in May?'" she can be heard saying before the camera pans over to a row of baby balloons.
"Well, Mike and Isaiah and I are absolutely over the moon and excited to be adding another little fish to our pond," she excitedly announced. "This has just been a dream come true with album, and baby news and all that stuff. We're just so excited and happy that you guys can share in this with us. Love you guys! We will see you on the road in 2019!"
Underwood's empowering breakup anthems like "Cowboy Cassanova" and "Before He Cheats" definitely got many of her fans through tough relationships, and I was happy to hear that she has another baby on the way after welcoming her 3-year-old son Isaiah Michael Fisher on Feb. 27, 2015. The country songstress has been vocal about her desire for a big family, telling Redbook in early August, "I'm 35 so we may have missed our chance to have a big family."
She continued, "We always talk about adoption and about doing it when our child or children are a little older. In the meantime, we're lucky to be a part of organizations that help kids, because our focus right now in our lives is helping as many kids as possible."
That desire to adopt reportedly hasn't changed after getting pregnant. According to Us Weekly, an insider told the publication, "Carrie does still talk about adopting children because she truly does want a large family and wants to be a mom to several kids."
I'm looking forward to many more baby bump-flaunting snaps in the musician's future. In the meantime, can we talk about that serious mama-to-be glow she's got going on?