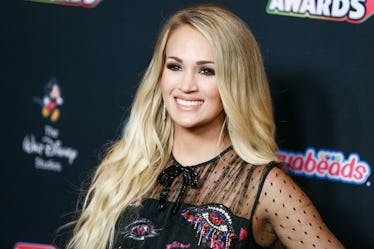 Carrie Underwood Is Pregnant With Her Second Child, So Get Ready For Another Country Baby
Rich Fury/Getty Images Entertainment/Getty Images
Yee-haw, everybody! Country music star Carrie Underwood is pregnant with her second child and fans are SO excited for her! Underwood announced the good news via a personal video she released on the morning of Wednesday, Aug. 8 on Twitter. After dropping some fun details on her Cry Pretty tour, the camera panned out to reveal a shiny "baby" sign hanging over her head. Underwood explained, "Mike, Isaiah and I are absolutely over the moon and excited to be adding another fish to our pond." She added, "This has just been a dream come true with [the] album and baby news and all that stuff and we're just so excited you guys can share in this with us and be a part of this with us."
What a day to be a Carrie Underwood fan! According to Underwood, the Cry Pretty tour kicks off in May 2019, which gives her and her growing family time to settle in together. It's not totally clear yet when the baby's official due date is, but fans can anticipate sometime in late Winter or early, early Spring based on her tour schedule. Also — and I'm just sayin' — Underwood is wearing all pink in the video. If we're talking traditional baby colors, that could be a sign.
Underwood seems genuinely delighted by all of the big news and adorably signs off, "and yeah, have a great day!"
No, YOU have a great day, Carrie!
Underwood and her husband Mike Fisher welcomed their first baby boy, Isaiah, three years ago in February 2015. In a recent interview with Redbook, she talked about her initial intentions to have a big family and even the possibility of adopting. "I'm 35, so we may have missed our chance to have a big family," she said. "We always talk about adoption and about doing it when our child or children are a little older. In the meantime, we're lucky to be a part of organizations that help kids, because our focus right now in our lives is helping as many kids as possible."
Underwood also admits 2017 was a transformative year for her. After suffering a wrist and facial injury from a bad fall outside of her apartment, she took some time off. "A lot happened in 2017 during my 'off year,'" she said. "I love it when people say, 'You took a year off.' I'm like, 'You know, I had this shoot and this thing, and I was writing this and doing that.' There was always so much to do, but it was also a very soul-searching year for me."
The soul-searching obviously yielded awesome things for her and her family including a new tour and a new baby. Fans can look forward to the Cry Pretty album dropping on Sept. 14, and can see tour dates at the end of her baby-announcement video as well as on her website, carrieunderwoodofficial.com. As for the baby, we'll just have to stay tuned.
Congratulations, Carrie, Mike, and Isaiah!
Check out the entire Gen Why series and other videos on Facebook and the Bustle app across Apple TV, Roku, and Amazon Fire TV.