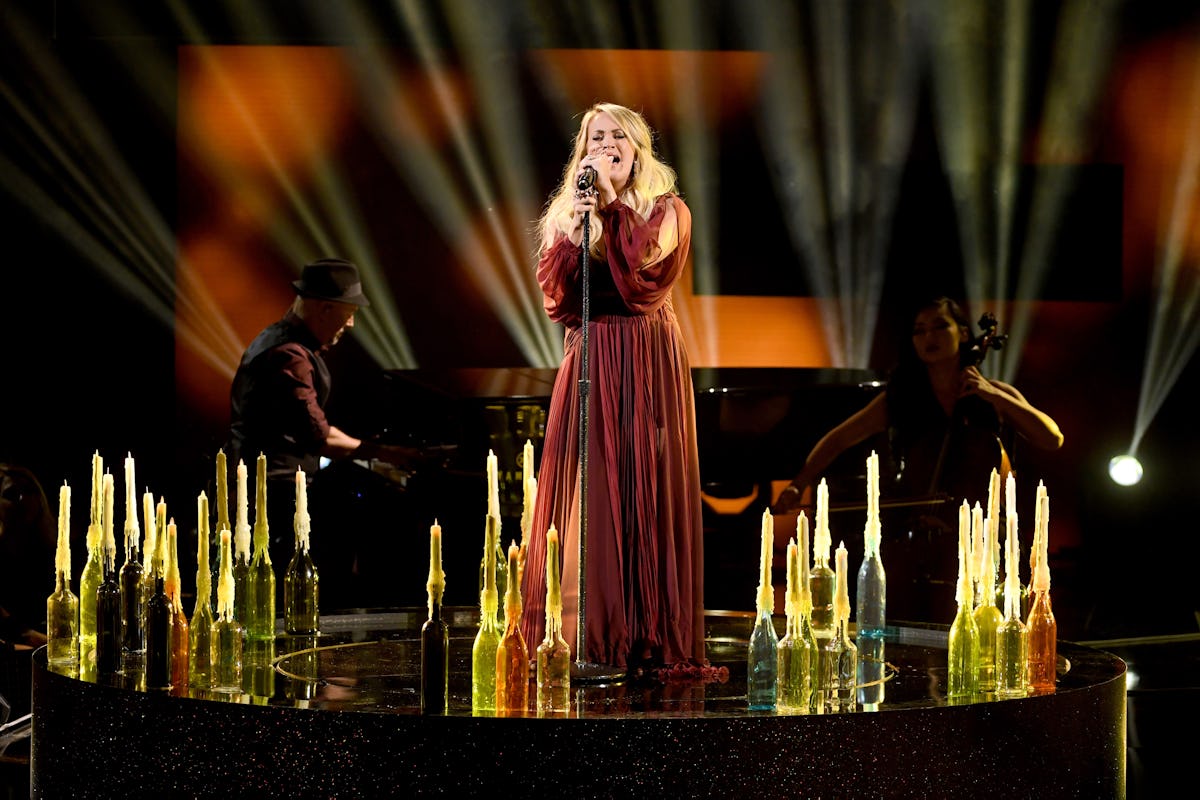 Carrie Underwood Just Gave The Most Emotional Performance At The AMAs
Kevin Winter/Getty Images Entertainment/Getty Images
This year's American Music Awards promised to be a star-studded fest of performers from all genres and nominees from across the musical spectrum. Taylor Swift made a triumphant return to the AMAs stage opening the show, and everyone, from old-timers like Jennifer Lopez to newcomers like Dua Lipa, were scheduled to perform. But perhaps the most anticipated performance was country singer Carrie Underwood, who would be singing her latest single while rocking her baby bump. Carrie Underwood's 2018 AMAs performance of "Spinning Bottles" was an remarkable tribute to her work ethic as well as a reminder not to forget about her while she's on maternity leave.
Underwood has had a rough year. In November of 2017, a fall while walking her dog left her needing no less than 40 stitches in her face, keeping her out of the spotlight in the months before her newest album, Cry Pretty, arrived. She finally came back into the spotlight in the spring.
But along with trials and tribulations come successes. Underwood opened up recently that she and her husband, Mike Fisher, had worked very hard to get pregnant with their second child. (Their first, Isiah, was born in 2015.) Underwood revealed she had multiple miscarriages over the last two years as they tried for a second. Her performance (and baby bump) during her AMAs performance both were messages not to give up.
Underwood's album is one of her most personal works to date, as well as her most political. This song, "Spinning Bottles," is not one of her most personal, though, instead a song about addiction and it's toll on relationships. Still, her performance this evening was incredibly moving.
Carrie looked great on the red carpet at the AMAs. Underwood isn't known for the most adventurous of outfits, usually defaulting to beige or blushes when not wearing white. This year, her maternity red carpet wear was a little more daring, a black velvet sheath designed to show off her ever growing curves.
Carrie's newest album arrived only a few weeks ago on Sept. 14, 2018. That means it was not eligible for this year's American Music Award nominations, which moved their show back a month and a half from their usual spot in late November just before Thanksgiving weekend. That means the eligibility period was shorter than usual, running only 11 months, from Sept. 15, 2017 through to Aug. 2, 2018, instead of Sept. 14 as it would typically have done.
But just because the show moved and cut the eligibility period short does not mean Underwood did not land any nominations this year. She was still up for "Favorite Female Artist" in the Country division, competing against fellow singers Kelsea Ballerini and Maren Morris, which she took home easily. This is Carrie's 10th nomination and her fifth win in a row in the category, bringing her total up to 13 AMAs over the course of her career. Between that and her performance tonight, that's a reason to cry pretty.