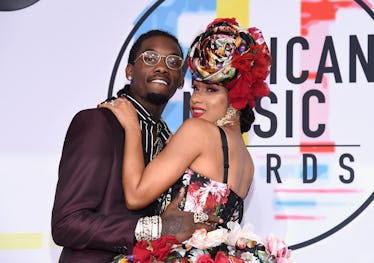 Cardi B's Reaction To Rumors She's Divorcing Offset For Publicity Is An Epic Clapback
Kevork Djansezian/Getty Images Entertainment/Getty Images
If you know anything about Cardi B it should be that she isn't afraid to speak her mind. The "I Like It" rapper has had one hell of a year welcoming her first daughter, Kulture Kiari Cephus, to the world, dropping her new Grammy-nominated album Invasion of Privacy, and most recently announcing her divorce to her newish husband, Offset. Of course, haters are always going to hate, and some people say she and Offset are only publicly splitting up to drum up press. (No. Stop it. Think again.) Cardi B's reaction to rumors she's divorcing Offset for publicity are so epic and also set the record super, super straight.
To catch you up, on Monday, Dec. 5, Cardi B jumped on Instagram to tell her fans and followers that she and Offset are no longer together. She explained she had been trying to "work things out with her baby's father for a hot minute," though they ultimately came to the decision to call it quits. She explained "it's nobody's fault" and that she and Offset are still great friends and business partners.
However, trolls began to call BS on the news, especially considering Offset and Cardi B had an intense PDA packed performance at 102.7 KIIS FM's Jingle Ball just a few days before her Instagram announcement. Offset is also dropping an album on Dec. 14, which made some people think all of this divorce talk is really just to gain attention.
But according to Cardi B, that theory is the real BS.
On Sunday, Dec. 9, Cardi B jumped on Instagram Live where she shared more than a few thoughts on the divorce theory. The video looks like Cardi B must have been pointing her camera towards the ceiling as fans never saw her face. She explained,
I really don't like how people say me and my husband — whatever he is right now to me — is doing it for publicity... I wouldn't put my family in a bad name for no f*cking publicity, 'cause at the end of the day, ten years from now, my daughter, she's gonna be looking at these type of things and she's gonna be asking me about these type of things.
At one point, Cardi B seemed to take a moment to gather herself before making one thing very, very clear: "There's a kid involved. So, there would be ain't no type of publicity that I would ever want that would have my daughter looking at me crazy."
From there, Cardi B became even more passionate, explaining she would never do something for publicity that could ruin her family or career. "I've been seeing a lot of people say that my relationship was fake. B*tch, there's certain things called love. People do fall in love. Like, my relationship was never fake," she said. "I gave him a chance and we fell in love with each other. Things was not always gravy, 'cause at the end of the day, we are two different people. But we never did anything for f*cking publicity, b*tch. You think I got f*cking pregnant, could have ruined my career for f*cking publicity?"
Nearly 100,000 people watched the live video in real time, and it has surely been viewed by thousands more since then.
Fans, continue to stand by for further divorce updates from Cardi B and/or Offset.