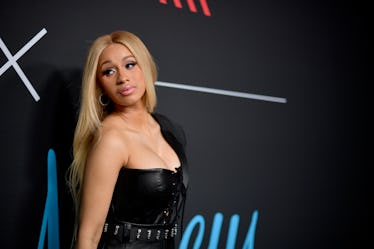 Cardi B's Net Worth Is Rising So Fast You Won't Be Able To Keep Up
Matt Winkelmeyer/Getty Images Entertainment/Getty Images
Cardi B may call herself the "trap Selena" (as in Selena Quintanilla-Perez), but that doesn't mean she's selling herself short. In fact, the Bronx-born rapper was being completely aspirational in comparing herself to the Latina music icon — so much so that she's well on her way to becoming an icon and multi-millionaire in her own right. Cardi B's net worth is amassing at an incredibly rapid pace and fans can hardly keep up.
So, just how much is Cardi B worth at this stage of the game? Well, according to Celebrity Net Worth, Cardi B's net worth is at $4 million. Pretty impressive when you consider that just a year ago, her net worth was hovering at about $1.5 million. What's more impressive is that she's garnered this amount of success and financial sway even before releasing her debut album.
Her debut album, Invasion of Privacy, was released on Friday and it's already gotten rave reviews from fans and critics alike. To add to her success, Cardi B revealed Saturday that she is pregnant while promoting her album on Saturday Night Live. The big reveal comes several months after fans began speculating about her growing belly. She quickly shut down the rumors, claiming she was simply "getting fat."
While Cardi B has given us what seems like all-access to her private life, this exciting pregnancy news was one thing she wanted to keep for herself. And I can certainly respect that. It's also pretty clever given that her request for privacy is totally in line with her new album. Through her music and social media interactions, she's peeling back the layers of who she is as a woman, a soon-to-be mother, and a lover.
Speaking of lovers, fellow rapper Offset is the father of the little rugrat Miss Cardi will be soon be welcoming to the world. The two started dating in early 2017 and have have been totally devoted to each other ever since. They even got engaged back in October. Couldn't be happier for them!
And with Cardi B's $4 million net worth plus whatever Offset's net worth happens to be (which is probably a lot given that he's been in the spotlight much longer than Cardi), that baby will be set for life — both musically and financially. It's going to be really exciting to see where this couple is headed in the future. I mean, the combination of musical talent, promising career paths, and now a baby just seems too perfect to go wrong.
Plus, they both seem to be on the exact same page when it comes to this whole parenthood thing. They're very much doing it on their own terms. Just look at the way they've handled it so far: They've both kept a relatively low profile even though their stars are rising and their names and faces are plastered everywhere. No one even really knew that they were expecting!
All signs point to Cardi B and Offset handling family matters the way they want to and there's so much power in that, especially as young performers in an industry that demands so much of them. It's really endearing to see how excited they are and how much personal and professional success they're enjoying together. May we all have relationships and careers as prosperous as these two. Now, I doubt we'll all triple our net worths in just over a year, but a gal can hope, can't she?
In all seriousness, we should all be celebrating Cardi B's success. She's risen above so much and stood her ground when it comes to her artistry. Not bad for a girl from the Bronx, right?