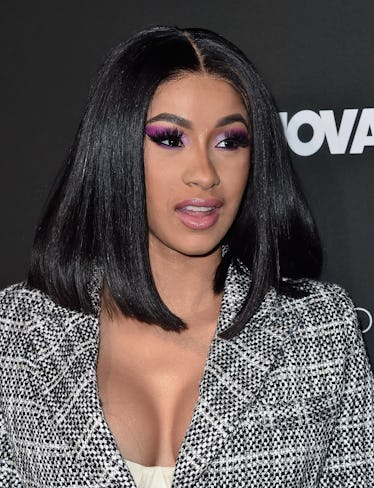 Cardi B Revealed Why She's Scared To Post Photos Of Kulture, Even Though She Wants To
Alberto E. Rodriguez/Getty Images Entertainment/Getty Images
New mom Cardi B and her husband Offset (of the rap group Migos) are somewhere out there enjoying the good life. They have a new baby girl, are working on their independent rap careers, and she just launched her Fashion Nova X Cardi B line. Everything is well and good, except for one thing that keeps tugging at the "Bodak Yellow" star... She's afraid to show the public what her daughter looks like. Cardi B's comments about being scared to post photos of Kulture are a real bummer, but also make a lot of sense. Let's be real, there are a lot of haters out there.
On Wednesday. Nov. 14, Cardi B caught up with Entertainment Tonight's Katie Krause during her fashion launch at Boulevard3 in Los Angeles. During their convo, she explained she'll eventually get around to posting pics of her sweet babe, but for now, she still has her reservations. "One day, soon," she said. "I'm scared of sharing her to the world. There are too many mean people out there."
Ugh. Ain't that the truth.
Cardi B continued,
Sometimes I do want to show people how beautiful and how precious she is. She's so precious. There's a lot of people that have crazy minds, you know. I want to protect her! She's my little buggy.
In fact, the desire to protect Kulture is so strong, Cardi B revealed back in October she turned down a large sum of money for pictures of Kulture. She told Ebro Darden on Beats 1 on Apple Music, "I got offered seven figures [for baby pictures], but I'm just not ready yet."
A week or so prior to that, she told Jimmy Kimmel "paparazzi be everywhere, like even in my a**hole," and that she really she just wanted to be able to do "normal" things with her daughter before the whole world recognizes her wherever she goes. She explained,
There's certain things I want to do with my daughter. Like, I want to go to the beach with my baby, I want to take a stroll down the street with my baby. And I can't, because I don't know who's next to me, or who has certain intentions. I don't wanna show my baby out to the public right now, I just want to protect her. I'm not mentally ready.
Fortunately, Cardi B and Offest make a great team when it comes to their private life with Kulture. Cardi told Krause that her husband is a very hands-on dad, but that she expected that considering he had three children prior to Kulture. "He is changing diapers, but I've been seeing Offset being a dad," Cardi B explained. "He already has three kids, so I already fell in love with the way that he was a dad already. I'm like, 'Oh my god, I can have a little one with this guy.' He's really good."
"I want two more," she added. "It could always be a hit or miss, but I don't want nothing right now."
Fair enough, babe. I can't wait for whenever the time comes for us to officially meet Kulture. But, for now, I'm just happy to hear she's happy!