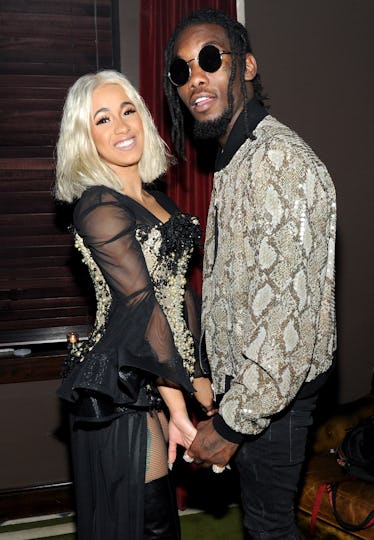 Cardi B & Offset's Quotes About Each Other Before Their Split May Have Hinted At A Breakup
Craig Barritt/Getty Images Entertainment/Getty Images
It's a sad day for fans of rappers Cardi B and Offset, because the two are officially over, according to Cardi B's latest Instagram post. The "I Like It" rapper took to social media in the early morning hours of Dec. 5 to announce that her marriage with Offset has ended, and the pair will be getting divorced. It seems like the two rappers — who got married in September 2017 and had their first child together in July 2018 — have always had a ton of love for each other, but their issues may have unfortunately gotten in the way of their relationship. And looking back at Cardi B and Offset's quotes about each other reveals that their breakup may not have been so out of the blue as we initially thought.
Let's take a look at some of the things the couple have said about each other that shows the writing may have been on the wall the entire time for these two.
December 2017: When Cardi addressed Offset's cheating rumors during her concert.
While performing at the Holiday Hip-Hop Festival, Cardi reportedly took a minute on stage to address the reports that Offset cheated on her back in September 2017. Elite Daily reached out to Cardi B and Offset's teams regarding these reports but did not hear back by the time of publication. While not exactly confirming the rumors of his infidelity, Cardi said, "I let a n***a know, though. You do that shit again — you're gon' lose your wife."
Not the most subtle way of sending a message.
January 2018: Cardi opens up to her fans on Instagram about her relationship with Offset.
Cardi has always kept it real, and on social media, one fan questioned her relationship with Offset after the reports of his infidelity hit the internet. One fan commented, "Poor Cardi. She's just like y'all," and Cardi must have seen the comment, because she replied directly to the user. She said,
Well if people are talking about it and keep asking me how I feel about the situation why not let them know? Right or wrong? No it's not right for a ni**a to cheat...But what you want me to do? Go f*** me another ni**a? Start all over again and get cheated on again? This sh*t happens to everyone. People handle they relationship different soo.
Eesh. This one is tough, because it shows that Cardi is all but admitting the rumors are true, and that her mindset was that if she was to break up with Offset, she feared that the next person she dated might cheat on her as well. If that doesn't show some real trouble in paradise, I don't know what does.
January 2018: Offset talks about putting wedding plans on hold.
Offset is a man of very few words, but when he does decide to speak, the things he says can be somewhat cryptic. In his interview with Rolling Stone, Offset talked about their wedding plans, despite the fact that weeks before, Cardi B alluded to the fact that he had cheated on her and that a sex tape reportedly featuring Offset had leaked online. Elite Daily reached out to Cardi B and Offset's teams regarding these reports but did not hear back by the time of publication.
Of their wedding plans, Offset bluntly stated that basically, there weren't any. He said,
We ain't, we ain't planning it right now. We chilling. We don't got time for that right now.
After Rolling Stone asked about what happened regarding the rumors, Offset replied, "It's my real life. It ain't no gig. It ain't no f*cking game, you know what I'm saying? It ain't no game. It's my life."
So not only was he unwilling to talk about the elephant in the room, but he also made it crystal clear that wedding plans were put on hold indefinitely.
February 2018: Cardi B opens up about staying with Offset, despite cheating rumors.
In an interview with Cosmopolitan, Cardi B candidly spoke about how she received a lot of negativity from her fans regarding her decision to stay with Offset. She said, "It's like everybody is coming down my neck like, 'Why are you not leaving him? You have low self-esteem.' I don't have low self-esteem … I know I look good. I know I'm rich, I know I'm talented," she said, adding, "I know I could get any man I want—any basketball player, football player. But I want to work out my shit with my man, and I don't got to explain why. I'm not your property."
While that sounds positive, what she said next in the interview showed that there may still be some underlying tension within the relationship. She said,
This is my life ... I'm going to take my time, and I'm going to decide on my decision … It's not right, what he f*cking did — but people don't know what I did, 'cause I ain't no angel.
While we don't exactly know what Cardi was referring to about being "no angel," it's pretty clear to see that there was certainly enough drama going on within the relationship at this point.
Now that the pair have officially called it quits, here's hoping that the two can move forward amicably and learn how to make things work between each other for their daughter's sake. Based on Cardi B's statement, it looks like they won't have any trouble doing that.