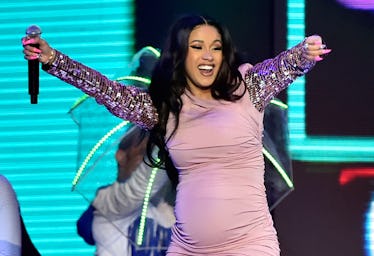 The Reason Why Cardi B Isn't Getting A Nanny To Take Care Of Kulture Yet Is So, So Sweet
David Becker/Getty Images Entertainment/Getty Images
It takes a village, you guys, and Cardi B has no problem admitting it. The new mama gave her family some serious props for helping out with her baby girl, Kulture Kiari, in an Instagram video that she posted on July 17. In it, she used a cute toy monkey to share her gratitude for her fam, as well as to reveal another little piece of news that's kind of surprising for such a big star — Cardi B isn't getting a nanny for Kulture yet. And the reason why is actually so sweet.
"I'm a very blessed person," the rapper shared via a toy monkey in her clip. "I know y'all see all the blessings that God be giving me in my life, but I've been blessed since birth. Like, I've been blessed since I came out of my mom's vagina because of my parents. Those are my biggest blessings, and I'm so thankful and I'm so grateful for them.
Sure, her description is a tad graphic. But OMG *feels.* Cardi then went on to reveal that her mom has not left her side since her daughter was born. "This is her first grandkid," she explained. "The last time she had a kid was 22 years ago. This is, like, all new to her again, just as it is new to me."
Even her dad and her sister Hennessy have been pitching in. "My sister has not left my sight at all," the "Bodak Yellow" singer said. "And my dad, you know, he's just running errands for me in New York. I have not gotten a nanny yet. I just want to learn how to be a mom. And I wanna to enjoy every single second of it, you know, since I'm going back to work."
So relatable. It's just really nice to see a star like Cardi admit she's getting help from her fam, and I think it's pretty admirable of her to take a pass on the whole nanny thing for now and, instead, focus on being a hands-on mom while she's still home with Kulture. Such a queen!
As for why she's speaking via a toy monkey, Cardi revealed the reason to her fans in another Insta post, in which she spoke through a doll wearing a pink dress. "Hey everybody, it's your girl Cardi B," she began. "I wish I could show my face right now but I look f*cked up. My hair's f*cked up. My eyes are so dark and puffy. I'm wild pale, like a b*tch look like she got yaundice, yandice, however the f*ck you say it. But I just really want to say thank you to everybody. I cannot believe I got nominated for 10 VMA awards! And I just wanna say thank you. Now lemme get back to this mommy thing."
That's right, you guys — Cardi scored TEN MTV VMA Award nominations this year, including Video of the Year, Song of the Year, and Artist of the Year. But judging from her recent social media posts I think one thing is clear:
The only title she really cares about right now is Mother of the Year.