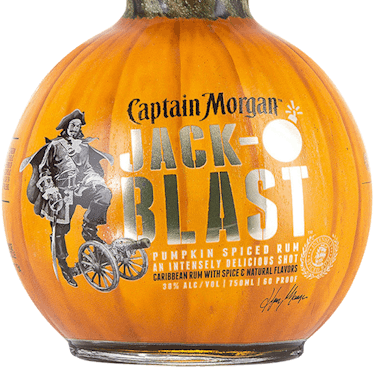 Pumpkin Spice Rum Is Here To Make All Your Fall Happy Hours Festive AF
Go ahead and call me basic, but there's seriously nothing I look forward to more than kicking off the autumn season with a good old-fashioned fall drink. Trust me, it's a really fantastic feeling. Between chai-spiced everything, apple cider beverages, and, most importantly, the highly-revered pumpkin spice latte, there are so many delightful options to make yourself feel incredibly cozy on a crisp fall day. And, in case you haven't already heard, Captain Morgan's Jack-O-Blast pumpkin spice rum is finally here (if you're 21 years or older), and it's truly everything I could ever want. Get ready to see me living my life on a whole new level.
First, there were pumpkin spice lattes. Then, from out of the blue, pumpkin spice beer, whisky, iced coffee, hot coffee, and even ice cream seemed to magically appear. Now, it looks like the pumpkin spice gods have been feeling extra crafty (and boozy) lately, because basic pumpkin spice-lovin' guys and gals everywhere can now enjoy the latest and greatest pumpkin-spiced delight: Captain Morgan's Jack-O-Blast pumpkin spice rum. Yes, you read that correctly, and it's about to make a festively spooky appearance in all of your cocktails this upcoming fall season. Get ready for some autumn-themed dranks.
Captain Morgan's pumpkin spice rum is appropriately called Jack-O-Blast, per Cosmopolitan, and it's flavorful enough to do as a shot, to sip by itself, or even to add as a mixer in a festive cocktail (ahem, boozy PSLs, anyone?). According to Total Wine's website, Jack-O-Blast blends spicy Carribean rum with fitting fall flavors that include pumpkin, cinnamon, and, of course, that ever-ambiguous-but-straight-up-delicious flavor: fall spice. The bottle is shaped like a giant pumpkin, and it's complete with a stem where the booze pours out. TBH, it happens to be a super cute decoration as well, if you love pumpkins as much as you adore the PSL. One 750 milliliter bottle only goes for $17.99 on Total Wine's website, but it's not available for online purchase at the time of publication.
In some better news, though, the Captain Morgan website has store locator where you can enter your location to find out which retailers near you sell the autumn spirit.
If you're looking to munch on something to soak up all of that Jack-O-Blast, make sure to snag some of Starbucks' Pumpkin Spice Cookie Straws. During the week of Aug. 13, grocery stores around the United States will start selling fall snack, and trust me when I say that they sound freaking amazing. Each "straw" is made up of a toasted white chocolate wafer, which is rolled into a straw shape, and filled with decadent white chocolate, as well as festive pumpkin spice. If you ask me, they sound delightful on their own, but they could also act as an adorable garnish to any and all pumpkin spice cocktails. I know I'm a genius.
You have to admit that very few things in this world can surpass the pumpkin spice flavor in fall, which is why I'm getting stoked to try Captain Morgan's Jack-O-Blast pumpkin spice rum. Whether I'll be sipping it by itself or mixing it into all of the most festive cocktails, I know I'm going to love it more than practically anything else. I'm literally making recipe cards as we speak, because this release calls for a pre-fall party.