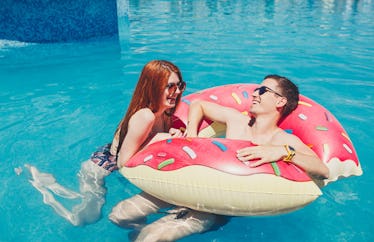 Here's Exactly What's In Store For Your Love Life During Cancer Season
Why does that Facebook commercial they force-feed me on the AMC app when I'm watching Killing Eve almost make me cry every time? It's very clearly Facebook saying, "Sorry we sold your information," but I'm verklempt. Why am I so sentimental?! Oh, I know why. It's because the Sun is in Cancer from June 21 until July 22, 2018. During this monthlong period, you might want to spend time with people you love, and you might even be a little extra emotional. Cancer season's effect on your love life is equally powerful, so get excited whether you're single or in a LTR.
Cancer — the crab — is protective and caring. Cancers wants to nest with the ones they care about, especially during the summer, which for an entire month is Cancer season. However, when the sun is in Cancer, every sign's mood will be affected differently. I spoke to expert astrologer and healer Rachel Lang to collect her read on how Cancer season would effect each and every sign of the zodiac when it came to their love life. Is a summer fling in your future? Or maybe a future partner? Or maybe a truly independent Independence Day is just what you need. Here's what Lang says is in store for your sign.