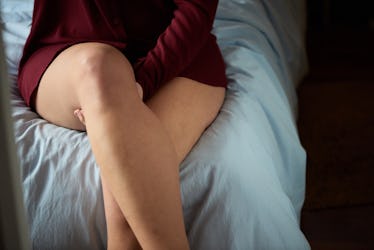 A Depressed Vagina Is A Real Thing, But Here's What The Condition Actually Means
Vaginas tend to have a mind of their own, and they're not afraid to let you know it. When it's on, it's on like Donkey Kong, and when it's off, your lovely lady parts simply cannot be bothered. Women tend to think of their vaginal moods in two categories: hot or not. Knowing you have something of a vaginal state of mind, it does raise the question, can your vagina be depressed (because we know damn well it can be disappointed)?
It turns out sad vag is actually a thing, and not just a weird subplot for my girl Charlotte York on Sex and the City. A woman's nether regions can go through a lot, and it's not all that uncommon for women to pay a visit to the gyno with what they think are the painful woes of a yeast infection — like my girl Charlotte — but instead, find themselves being diagnosed with something called vulvodynia.
Vulvodynia is essentially your gyno's equivalent to a shrink's depression diagnosis. Just when you think you have enough problems upstairs, downstairs wants in on the drama, too. In all seriousness though, this isn't a case of your vag being melodramatic by any stretch; vulvodynia is a real, and oftentimes super problematic condition to live with. Maria Sophocles, MD, ob-gyn, and medical director of Women's Healthcare in Princeton, New Jersey, told Women's Health that symptoms of vulvodynia can range from "burning, stinging, itching, throbbing, swelling, and soreness that's often described as agonizing." Yikes.
Vulvodynia occurs in vaginas that are on the more sensitive side of the spectrum.
To put things into perspective for you, when someone is depressed, everything — mind, body, soul — hurts. Likewise, when your vagina is depressed, every nook and cranny of the female genitals hurts, and it hurts bad.
According to Dr. Ross Pagano, head of Vulva Disorders Unit at the Royal Women's Hospital in Melbourne, Australia, the chronic syndrome has virtually no rhyme or reason for it to occur; it just kind of does. Mood swings, you know?
A woman's vulva has more nerve endings than any other part of her body, so when nerves get, well, nervy from irritants like sex without lubrication, it makes these ultra-sensitive nerve endings feel like a raging, biological danger zone.
Dr. Pagano told body+soul,
It is known that women who get vestibulodynia (the [most common] form of vulvodynia which occurs just inside the vagina) are born with a much higher concentration of nerve endings in the vulva vestibule than the average woman.
If those nerve endings are damaged, off they go with this incredible discomfort. Most of the patients I see can't have intercourse at all, and many have not for years.
It's painful, and also not easily detected, so women with vulvodynia are often stuck dealing with no relief until someone makes an accurate diagnosis.
Emotional depression is not always visually apparent, but vaginal depression virtually never is. Vulvodynia involves a woman's hyper-sensitive nerve endings wreaking havoc over her genitals and, as a result, her overall lifestyle. It's a sensation, not an inflammation or sign of bacteria that's causing the issue, therefore doctors often have trouble coming up with a definitive diagnosis. There have even been cases where, because doctors can't find anything on the surface, they've sent patients to consult with sex therapists, who then may mistakenly blame their condition on psychological disturbance.
What's even more concerning is that it's not all that uncommon for any given woman to experience a depressed vagina. SheKnows reported that during a study performed in 2003 by Harvard University researchers, it was revealed that one in every six women will experience chronic vulvar pain in their lives. What's more, Vivian W. Pinn, MD, director of the Office of Research on Women's Health, told SheKnows that it can be difficult finding a doctor who's educated enough to diagnose women with the chronic vulva pain syndrome, let alone treat it.
So, how do you treat a depressed vagina?
Living in constant pain will inevitably wear on a person, both physically and mentally, so while experts have yet to find a specific treatment to nurse this syndrome back to health, physicians usually prescribe antidepressants and other, similar sorts of therapy to boost your lady part's serotonin levels. Dr. Sherry A. Ross, OB-GYN, women's health expert and author of She-ology, told POPSUGAR that, because the circumstances of vulvodynia are so frustrating and affect patients both physically and mentally, "emotional and psychological support goes hand in hand with medical treatment options."
If you've been diagnosed with or think you may be showing signs of this condition, there are a few ways to cope outside the doctor's office. For example, if you're sexually active on the reg, let your partner know you need to take a break from intimacy for a while, so that you a) don't feel pressured to have sex and b) don't irritate the vulva further. Additionally, be sure to perform a clean sweep of your feminine products, and pay close attention to toilet paper that may contain bleach, as this may only make the pain down there even worse.
A depressed vagina is definitely not something you want to endure if you can help avoiding it. Always take care to be extra cautious and loving with your lady parts. We already know they're sensitive, but it seems like you can never really tell how much.