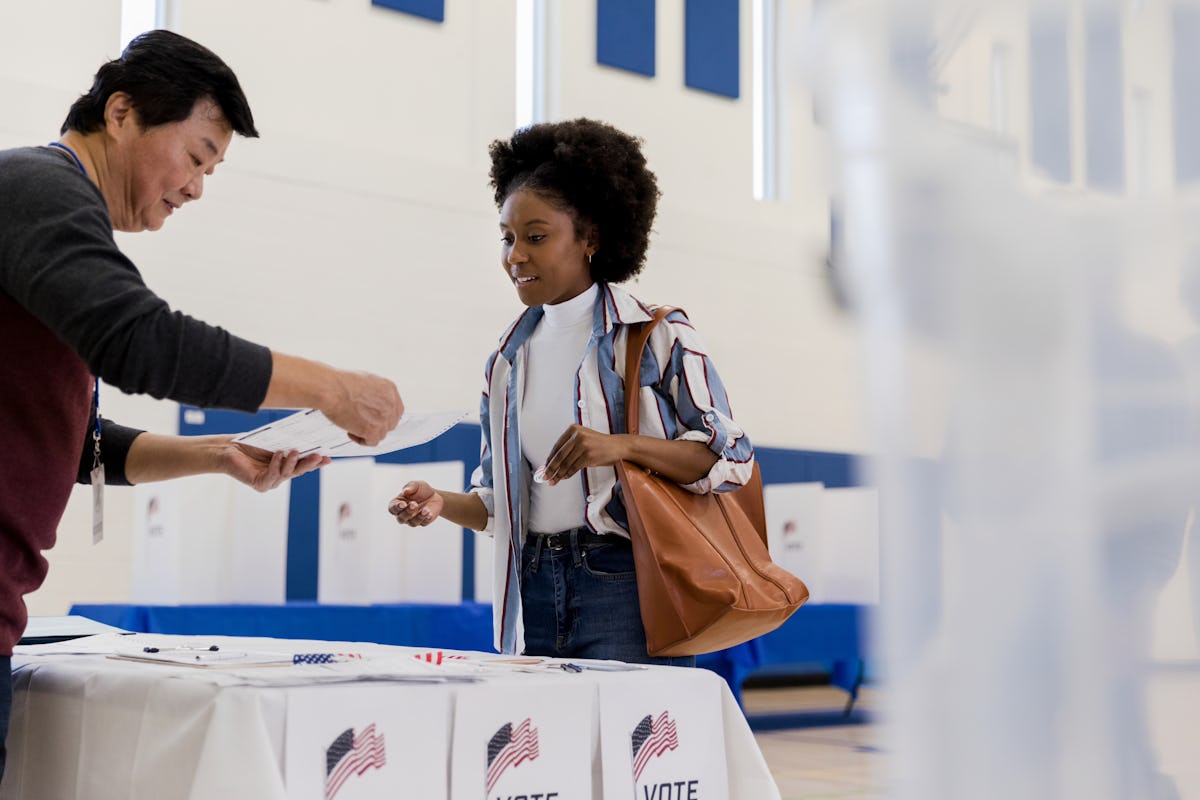 If Your ID Is Expired On Election Day, Don't Panic — Here's What To Know
SDI Productions/E+/Getty Images
By the time you're reading this, you've probably been told by no less than five people to make a plan to vote. It's good advice, but you might run into some issues as you get your plan together. If one of those issues is an expired ID, you're probably wondering if you can vote if your ID is expired. Well, it varies, but here's what you should know.
The most convenient and efficient voter identification to have is a photo ID, but in the event that you have an expired ID, first check if you have a back-up option for identification. According to the National Conference of State Legislatures (NCSL), you can use a driver's license, state-issued ID card, or military ID to vote in most states. As of 2020, there are 36 states that require some form of ID on Election Day (North Carolina's requirement is currently inactive due to a December 2019 injunction.) You can check Vote.org's state by state guide to see your state's requirements.
If you don't need an ID, you're in luck. If you do need a photo ID, you may run into some trouble in states like Indiana, Georgia, Kansas, Mississippi, Tennessee, Virginia, and Wisconsin — as those states have strict photo ID laws requiring you to present valid photo identification. These states may also require a form of ID when voting by mail if you're a first-time voter. There are some exceptions, which also vary by state, like if a natural disaster prevented you from getting your ID renewed, which is only an exception in Texas. In that case, according to Vote.org, you'll have to sign a sworn statement justifying why you don't have a valid ID and bring along another document for verification, such as a birth certificate or government check.
If your state is less strict about ID requirements, you might be able to use non-photo identification such as a bank statement with your name and address, or a utility bill. Other states have stricter exception rules: Check out the NCSL Voter Requirements page to see how or if you can get around not having proper identification in your state.
In case that all fails, you might be able to fill out a provisional ballot. According to fact-checking site Snopes, federal law requires election officials provide "ineligible voters" with provisional ballots, in accordance with Section 302 of the Help America Vote Act (HAVA). As a heads-up, you should know they aren't exactly cast the same as a standard ballot. They're held separately from the others until after the election so they can be checked for eligibility. Some states don't require any further action from you, but stricter state laws may have you return to your local election office a few days after the election so you can show them an acceptable form of ID in order to get your ballot counted. In either case, make sure you know your state's requirements so you can resolve any problems that come up — and make sure to keep up with your ID renewal from here on out.
Your voice matters. So does your vote. Make sure both are heard and counted in the 2020 election by registering to vote right now.
This article was originally published on