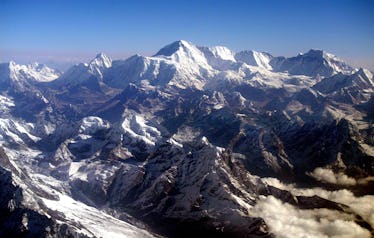 This is What You Need To Know About Visiting & Climbing Mount Everest
Paula Bronstein/Getty Images News/Getty Images
Last May, I — along with countless others — waited with bated breath to see if Adrian Ballinger and Cory Richards would make it to the peak of Mount Everest. As someone who's always wanted to visit Mount Everest, I was glued to my phone following updates. It was the second year the pair documented their climb on Snapchat, through the EverestNoFilter account, and it was a year of redemption for Ballinger, who didn't make it to the top in 2016. This time around, Ballinger made it to the peak, marking his seventh Everest summit — and the first time, he did it without supplemental oxygen.
This Everest climbing season, Ballinger is getting back to guiding climbs with his company Alpenglow Expeditions. He'll be bringing a team on a rapid ascent of both Everest and nearby Cho Oyu (the sixth tallest mountain in the world), which they aim to do in under a month. For context, a typical ascent of Everest alone takes around 70 days.
Those rapid ascents aren't for an everyday hiker, and, indeed, Ballinger won't even let lesser-trained climbers on that trip. As a seasoned climber who's been going to the Himalayas for two decades, Ballinger has a good idea of who should and shouldn't be trying to climb Everest. But, he tells me in an interview for Elite Daily, there's something for everyone at every level of mountaineering experience around the famed mountain.