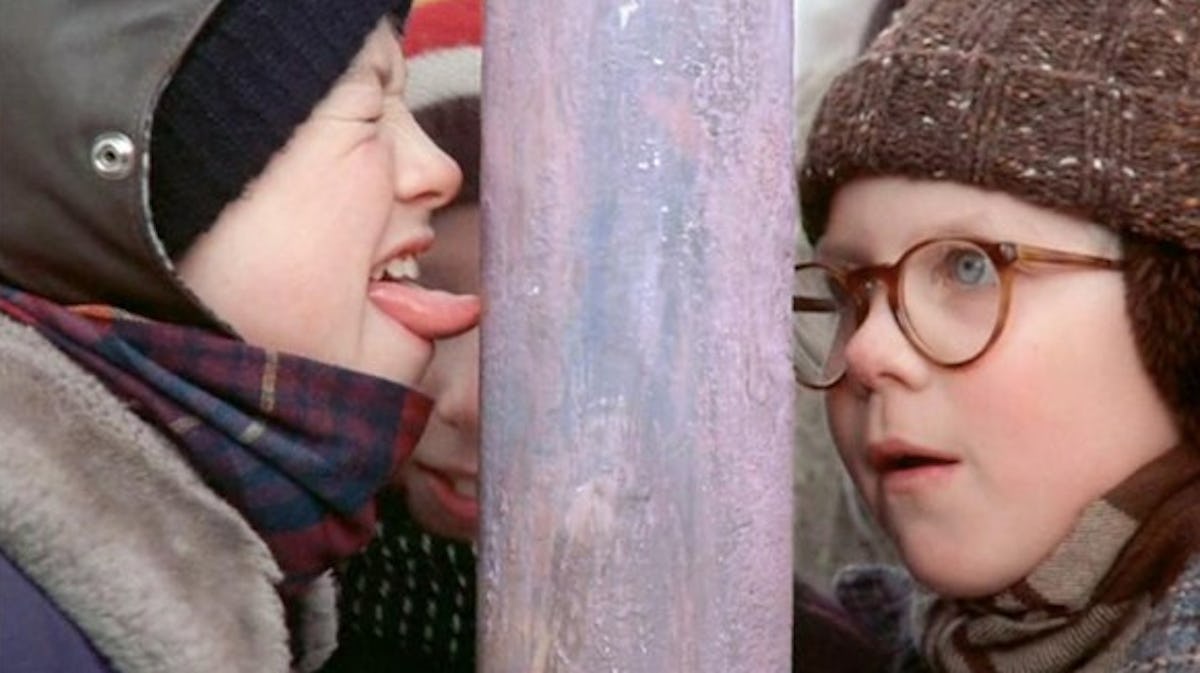 Here's Everything You Need To Know About The 'Christmas Story Live!' Soundtrack
Warner Bros.
A Christmas Story Live! is the next musical to be broadcast live on FOX this Sunday, Dec. 17. In case you only know the movie and nothing about the broadway show, first of all, there was a broadway show. It was created by none other than Benj Pasek and Justin Paul, the dynamic musical duo behind La La Land and Dear Evan Hansen. A Christmas Story: The Musical was Pasek and Paul's broadway debut, and now an Oscar and some Tonys later, their debut musical is being broadcast live. But can you stream the Christmas Story Live! soundtrack? The short answer is: Not yet.
The only cast album of A Christmas Story: The Musical that currently exists/is available for purchase and streaming is the recording they made in 2010. Pasek and Paul told Playbill they consider that album to be their "first draft," as it evolved more by the time it arrived on broadway in 2012. They also revealed the Christmas Story Live! cast will be recording a cast album that will be made available after the show airs. Most of the live broadcast musicals did the same thing. Shortly after it aired, Hairspray Live! released its cast album. Grease Live! did the same, as did The Wiz LIVE! Based on this trend, we can likely expect that the Christmas Story Live! soundtrack will be ready for streaming/purchase after the show airs on Sunday, Dec. 17.
The cast for A Christmas Story Live! is star-studded AF.
The narrator (aka adult Ralphie) will be played by Matthew Broderick, Ralphie's parents will be played by Maya Rudolph (SNL, Big Mouth) and Chris Diamantopoulos (Waitress: A New Musical), Jane Krakowski (Unbreakable Kimmy Schmidt, 30 Rock) will play Miss Shields, Ana Gasteyer (SNL, Grease Live!) will play Mrs. Schwartz, and Ralphie himself will be played by newcomer Andy Walken.
In their interview with Playbill, Pasek and Paul opened up about what it's been like to revisit the show that marked their broadway debut now having won an Oscar for their work on La La Land and basically all of the Tonys for Dear Evan Hansen. Pasek said of getting to go back to their show that started it all, "There's a great saying: 'Musicals are never finished; they're just abandoned.' At a certain point it's just pencils down; you have to open the show." The pair has also created some new songs specifically for the live broadcast, (one to be performed by Ana Gasteyer), so our ears are about to be blessed with more Pasek and Paul tunes. The pair has been riding some serious momentum lately. In just a span of a few years, they've released La La Land, Dear Evan Hansen, the upcoming movie musical The Greatest Showman (yes, they made two movie musicals two years in a row. No, we don't deserve them), and now they have A Christmas Story Live!
If it seems like these two never sleep, it's probably because they don't. Ian Eisendrath, the show's music director, told Playbill that adapting the stage version of A Christmas Story to the small screen has been no easy task, as every segment is basically its own act before the commercial break comes. Eisendrath said, "You have to divide the show up into multiple acts, which means something has to happen in each of the 12 to 14 acts. That dictates musical structure."
As for that new song being performed by Gasteyer, she told Playbill it's been pretty surreal to get to learn it. Paul told Playbill the new song was added so Ralphie can see what Hanukkah is like at the Schwartzs' house. He said, "Let's address it: The Schwartz family doesn't celebrate Christmas. We found a moment for Ralphie to go to the Schwartzs' house, and he's brought into this world of Hanukkah and their celebration." Gasteyer said learning the song has been amazing. She said, "When you get a phone call saying Pasek and Paul want to write a song for you, you say yes. I'm so excited — and so desperate — to do a good job on it. It's hard to sing; it's fun to sing."
A Christmas Story Live! will air Sunday, Dec. 17, at 7 p.m. EST.