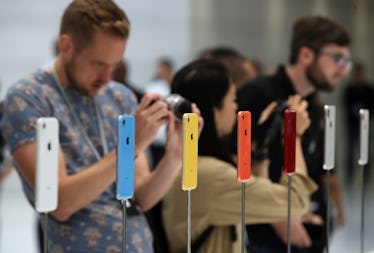 Here's What You Need To Know About Making Memojis With The iPhone XR
Justin Sullivan/Getty Images News/Getty Images
Back in September 2018, Apple announced its three new iPhones and the long awaited iOS 12 update. One of the fan favorite features of the software update is the ability to make Memojis. With the recent release of the iPhone XR on Oct. 26, you might find yourself asking, "Can you make a memoji with the iPhone XR?" Well, if you're the owner of a brand new XR, I've got some great news for you.
Memoji is a feature that allows some iPhone users to create customized Animojis of themselves and tailor things like face shape, skin color, hairstyle, and more to create an accurate digital avatar. Memoji will work if your phone has the TrueDepth camera and iOS 12, which comes with the iPhone X, XS, XS Max, and XR — so yep, iPhone XR users get access to this exciting feature. Unfortunately, phones older than the iPhone X won't have the Memoji feature, even if they've been upgraded to the new iOS, but you can still receive Memojis in the form of a video on older iPhones. The magic of Memoji creation lies in the TrueDepth Camera.
According to the Apple website, "You can make as many alter egos as you want to use in Messages and FaceTime." This means that your creativity isn't limited to only one Memoji — you can make multiples of yourself with different looks and styles, or you can even model them off of friends and family.
Memojis fall within the family of Animojis, an animated character that uses your voice and mirrors your facial expressions. Animojis, which are also only available on X models of the iPhone, were originally released with characters like the monkey, a yellow cat, and a fox. During the September 2018 keynote, four new Animoji characters were announced – a ghost, koala, tiger, and T. rex, which all feature wink and tongue detection so your animated avatar can capture even your most subtle expressions.
Though creating a digital replica of yourself may seem somewhat complicated, creating a Memoji is pretty simple. On your iPhone XR (or whatever X-model you have), go into an existing conversation or open up a new one. Tap the open-mouthed monkey (aka the Animoji icon) and then tap "New Memoji." Customize features of your Memoji to match your skin color, hair color, eye color, hair style, favorite accessories, and more. Simply tap "Done" when complete, and there you have it — it's you, on the internet!
To send your Memoji, follow the same initial steps — open a conversation and tap the Animoji icon. Then, instead of tapping "New Memoji," swipe to pick the one you already made, look into your camera, and start a recording that can last for up to 30 seconds. Send it as a message and you're done.
But that's not all you can do with Memoji. The feature can also be used in FaceTime to replace your actual face when having a conversation with someone (this is great for bad hair days). Simply tap the five-sided star when you're in a FaceTime conversation and tap the Memoji you want to use.
Seeing as though all three new iPhones — XS, XS Max, and XR — are now all available, it's up to you to decide which one is best for all your Memoji needs. So, if you're still using an iPhone 8, 7, or earlier but are super stoked about the Memoji feature, now may just be the time for that upgrade.